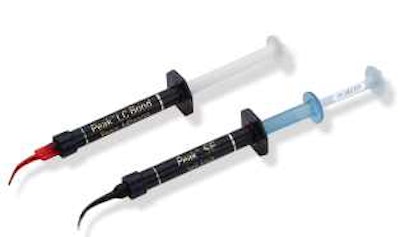 In the world of self-etch adhesives, Kuraray's Clearfil SE is like Muhammad Ali -- the one to beat. That's why researchers at the recent American Association for Dental Research (AADR) annual meeting in Dallas did a double take when they heard Ultradent's improved Peak SE + Peak LC matched the champion in a test of each product's adhesive power.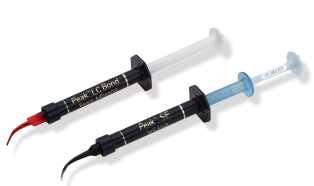 Ultradent's Peak SE + Peak LC self-etch adhesive combination fared well in studies presented at the American Association for Dental Research annual meeting.
In a study by researchers at Dalhousie University in Canada, Peak SE + LC actually came out on top. "I predicted Clearfil would do better," said observer Joe Ontiveros, D.D.S., director of esthetic dentistry at the University of Texas in Houston. "For this new adhesive to come in higher is significant."
AADR researchers presented results on some two-dozen studies in which they compared Clearfil SE to other adhesives, and in almost all of them, Clearfil SE beat its competition.
Fewer studies looked at Peak SE + LC, which Ultradent improved in a version released this year. But in those few, it came out looking good.
In the Dalhousie study, researchers compared the shear bond strength of several adhesive systems used to attach resin composites to ground enamel, uncut enamel, and dentin. On ground enamel, Peak SE + LC got a rating of 41.18 megapascals (MPa) versus 34.42 for Clearfil SE, a statistically significant difference.
On dentin, the two products reached a statistical draw: 39.12 MPa for Peak SE + LC to 35.57 for Clearfil SE. Likewise, the two were statically tied, 27.26 MPa versus 26.03, on uncut enamel.
| | | |
| --- | --- | --- |
| | Clearfil SE (megapascals) | Peak SE + LC (megapascals) |
| Dentin | 35.57 | 39.12 |
| Ground enamel | 34.42 | 41.18 |
| Uncut enamel | 26.03 | 27.26 |
The researchers also compared the two self-etch systems to two Ultradent total-etch systems (phosphoric acid + PQ1 and phosphoric acid + Peak LC). Predictably, the total-etch systems were stronger on both ground and uncut enamel. But on dentin, Peak SE + LC was equally strong.
A third self-etch system, Prompt-L-Pop (3M ESPE) scored at the statistical bottom on all three surfaces.
The study was particularly important because of the relatively high number of samples used. The Dalhousie researchers repeated their test three times with 10 teeth used for each bonding system on each of the three types of surfaces (for a total of 30 teeth per bonding system on each surface).
In addition, they thermal-cycled the specimens 2,000 cycles at 5 C and 55 C to mimic conditions in the mouth.
But lead researcher Melanie McLeod, a dental student at Dalhousie, warned that dentists shouldn't conclude that Peak SE + LC is superior simply on the basis of a single study. "This is just one aspect to consider," she said. "There are other factors, such as microleakage and the hydrolytic stability of the adhesive systems."
Indeed, in a microtensile bond strength study presented at the meeting, researchers from the University of Missouri in Kansas City found that Clearfil was stronger than Peak SE + LC and two other adhesives when water pressure was applied to simulate pulpal pressure. And a study from Creighton University in Omaha, NE, on shear bond strength found no statistical difference among these adhesives or five others.
The Dalhousie study was funded by the Natural Sciences and Engineering Research Council of Canada and a grant from Ultradent which the researchers said was unrestricted.
The Missouri research was funded by the U.S. Public Health Service, and the Creighton study listed no funding source.