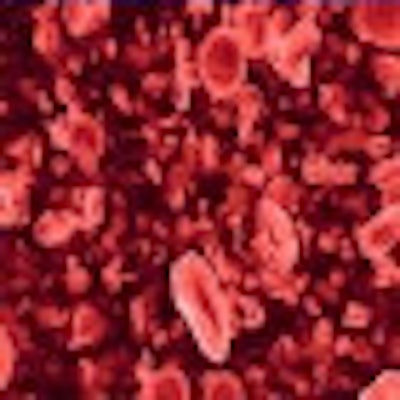 An implantologist is harnessing the growth-enhancing power of platelets to accelerate healing after dental implants are placed.
James Rutkowski,D.M.D., Ph.D., has been travelling across the country for five years proselytizing about the benefits of using platelet-rich plasma (PRP) in dentistry. In his most recent lecture, which he gave yesterday at the annual meeting of the American Academy of Implant Dentistry in New Orleans, Dr. Rutkowski offers detailed information that will allow audience members to start using it in their own practices.
PRP has been in use in medicine and dentistry for nearly 40 years. Its power resides in the fact that platelets produce all the factors necessary to stimulate growth of a wide variety of cell types.
"It provides greater predictability of healing for patients."
—James Rutkowski, D.M.D., Ph.D.
Dr. Rutkowski, editor-in-chief of the Journal of Oral Implantology and a dentist in private practice in Clarion, PA, refined the use of PRP in implant dentistry as a Ph.D. project, which he completed in 2008.
He uses what he's dubbed "buffy coat PRP," and has now treated more than 1,500 patients with it.
The technique of preparing and using buffy coat PRP, which he and several colleagues describe in a paper in press in the Journal of Oral Implantology, involves the following steps:
--The patient is administered dexamethasone and methylprednisone and sedated.
--9 mL of the patient's blood is drawn and centrifuged, and the PRP layer is collected.
--The patient is given antibiotics.
--The diseased or damaged bone is removed.
--Immediately post-extraction, 200 mL of PRP is injected into the extraction site.
--Gelfoam, cadaveric bone, or other bone-grafting material is moistened with another 175 mL of PRP and placed on the extraction site.
--The site is closed.
--Immediately post-operatively, the patient is administered methylprednisone, ketorolac, and bupivacaine.
--The patient is advised to take ibuprofen (600 mg) every six hours for three days, and then every six hours as needed thereafter.
--Patient returns for examination and digital radiography after six weeks.
Clinical research findings positive
In the soon-to-be published paper, Dr. Rutkowski's team reports the results of a randomized, controlled trial, funded by the American Academy of Implant Dentistry, involving six non-smoking patients aged 18 to 40 years. Each subject had one extraction site treated with PRP and a contralateral site treated without PRP.
The PRP-treated sites were found to develop increased bone density significantly faster in the first two weeks after surgery than did the control sites, the researchers reported. There also was significantly less facial edema in the PRP-treated areas after surgery.
In another paper, Dr. Rutkowski's team showed that the use of PRP cut the incidence of alveolar osteitis by nearly two-thirds, from 9.57% to 3.63% (Journal of Oral Implantology, June 2007, Vol. 33, pp. 116-121).
Another benefit to Dr. Rutkowski's approach is the low cost; he has calculated that the total cost per patient is only $20. He uses the $800 S750 centrifuge made by Salvin Dental Specialties and inexpensive disposable needles and passes on to patients only his costs for the procedure, "because when I use it I have so few complications, so it's saving me money."
"PRP saves your bottom line," Dr. Rutkowski concluded. "It provides greater predictability of healing for patients -- particularly for postmenopausal females who are not taking estrogen therapy -- is associated with virtually no complications, yields higher-density bone faster, and decreases the dry-socket incidence."
He also noted that there is a new insurance code for PRP use: D4265, "Biological material to aid in soft and osseous tissue regeneration."