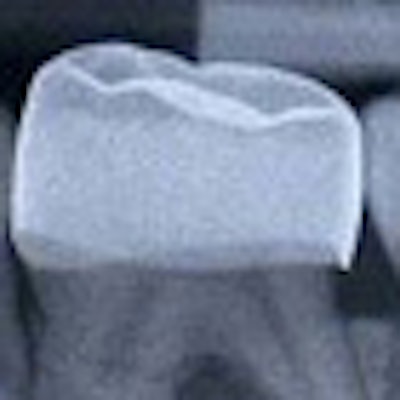 The inventors of the Hall technique -- a controversial approach in which a preformed metal crown is cemented to an unprepared primary molar -- have released evidence suggesting it is more effective than conventional restorations.
"Sealing in caries using the [Hall technique] statistically, and clinically, significantly outperformed" conventional restorations, concluded the authors, who will present the study this week at the International Association for Dental Research (IADR) annual meeting in Barcelona, Spain.
The study is one in a long string examining the premise that removing carious dentin is unnecessary because tightly sealed restorations can cut off nutrients that feed bacteria.
"It doesn't surprise me that if you cement something over a vital tooth, you seal off the bacteria."
— Kevin Donly, D.D.S., M.S.
"It doesn't surprise me that if you cement something over a vital tooth, you seal off the bacteria," said Kevin Donly, D.D.S., M.S., chair of pediatric dentistry at the University of Texas at San Antonio and a spokesman for the American Academy of Pediatric Dentistry. But restoring a tooth without preparing it would be a radical change for most dentists, and Dr. Donly said he wants to see more research before endorsing the procedure.
With the Hall technique, practitioners use glass ionomer cement to bond a metal crown directly onto a primary molar without removing caries or using any anesthesia. The technique was pioneered by Norna Hall, a dentist working in a remote, rural part of Scotland where children had a high incidence of caries and families were reluctant to seek treatment. She theorized that patients would accept her approach because it was simpler and less painful. (Click here and scroll down to see images of the technique.)
Four-year results
In the IADR presentation, researchers from the University of Dundee and James Cook University Hospital update a study they published two and a half years ago (BMC Oral Health, December 2007, Vol. 7:18).
For the study, 17 general dentists treated two cavities in 132 children ages 3-10. The cavities went more than half way through the dentin in 42% of the teeth, and two-thirds were class II. One primary molar in each child was randomly assigned to the Hall technique, and dentists used their usual technique for restoring the other tooth.
Following up at least four years after the restorations were placed, the researchers were able to track the fate of 176 teeth. They found that three of the Hall technique teeth met their definition of major failure: "irreversible pulpitis; loss of vitality; abscess; or unrestorable tooth." By contrast, 12 of the conventionally restored teeth fit this definition. The difference was statistically significant (p < 0.05).
Likewise, only four of the Hall technique teeth could be called minor failures because they had "reversible pulpitis; restoration loss/wear/fracture requiring intervention; or secondary caries," but 36 of the conventionally restored teeth were in this situation -- an even more significant finding (p < 0.0001).
"These results are comparable to, or better than, published data for conventional restorative techniques, including many secondary care studies ... and strongly support the Hall technique as a predictable, low-maintenance method for managing caries in primary molars," the researchers wrote.
High occlusion?
Some critics of the Hall technique have worried that it would result in such high occlusion that temporomandibular joint pain would result. The researchers have not yet reported on this question at the four-year mark, but in their earlier report after one year, they got such complaints. They said all the patients had occlusion at that point.
Dr. Donly would like to know more. "How well is this adapted to the gingival tissue?" he asked. "What's it doing to the adjacent tooth?"
And he called for a further study in which the Hall technique teeth would be compared to teeth in which preformed metal crowns were placed on molars prepared in the usual way. "If it's that big of a carious lesion, I probably would put a stainless steel crown over it," he said.
For the IADR study, 91 of the original 132 conventional restorations were glass ionomer, 12 amalgam, eight compomer, 14 composite, and two fissure sealant. Only one was a preformed metal crown (four had no restoration provided).
"I'd like to see more data, and I would like to see a study in which you are comparing apples to apples so you have teeth on both sides really sealed," Dr. Donly said.
Copyright © 2010 DrBicuspid.com