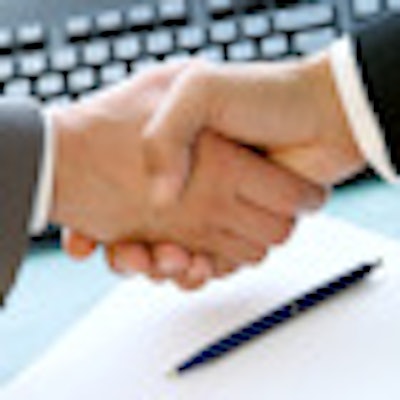 Dentsply International is positioning itself to become a major player in the dental implant market with the acquisition of Astra Tech from AstraZeneca.
The company announced today that it will pay $1.8 billion for Astra Tech, giving Dentsply about a 20% share of the $3 billion worldwide dental implant market.
After AstraZeneca announced last year that it was interested in selling Astra Tech to focus on its core pharmaceutical business, the deal attracted a plethora of bidders, including Straumann, Nobel Biocare, Zimmer, Biomet, Danaher, and several private equity firms. Earlier this month Straumann and Nobel Biocare bowed out, and in the end Dentsply outbid the others.
Astra Tech had revenues of $535 million in 2010 and is the world's third-largest maker of dental implants after Nobel Biocare and Straumann. Nobel Biocare has about a 21% market share, followed closely by Straumann at 20% share, according to Jeff Johnson, an analyst with Robert W. Baird.
Astra Tech is based in Mölndal, Sweden, and has 2,200 employees in two divisions: Astra Tech Dental and Astra Tech Healthcare. Astra Tech Dental's Atlantis business is a key provider of CAD/CAM customized implant abutments, while Astra Tech Healthcare is a leading provider of hydrophilic intermittent catheters, with its LoFric brand hydrophilic catheter having a strong position in the European market, according to Dentsply.
Dentsply is one of the largest dental products suppliers in the world, with operations in 40 countries and distribution in more than 120 countries. The company reported revenues of $266 million on sales of $2.2 billion in 2010 and expects the addition of Astra Tech to boost its revenue base by about 25%, according to Bret Wise, Dentsply chairman and CEO.
"The combination more than doubles our position in dental implants while expanding the breadth of our portfolio in this growing segment of dentistry," he said in a statement. "The urology and surgery business and management team provide us with additional growth opportunities within the broader medical devices category with a strong market position and an exciting pipeline of new products."
Growth in the dental implant market is expected to accelerate and outpace the overall dental market, according to Dentsply. In particular, the company sees the CAD/CAM abutment market continuing to expand at a 20% growth rate.
The transaction, which is expected to be finalized within the next four to six months, is subject to customary regulatory approvals. Dentsply said it funded the deal through a combination of cash and committed debt financing.