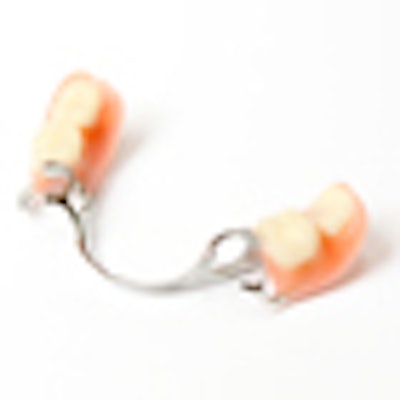 Cendres+Métaux will debut a new thermoplastic material at the upcoming Lab Management Today (LMT) Lab Day in Chicago that the company says offers processing advantages over other thermoplastics used in dentistry.
The new material -- PEKK, commercially known as Pekkton -- was originally unveiled in early 2011 at the International Dental Show (IDS) in Cologne, Germany, but remained virtually unnoticed in the dental media.
But the company garnered more attention for PEKK later in the year at the COMPAMED 2011 International Trade Fair in Düsseldorf, Germany.
PEKK -- which at first glance seems to be a misspelling of PEEK -- is a thermoplastic material developed for temporary applications used in dentistry, such as healing caps for dental implants or implant abutments, according to Thierry Copponnex, PhD, director of development at Cendres+Métaux, who gave a lecture on PEKK at COMPAMED.
PEEK and PEKK are both poly-aryl-ether-ketone (PAEK) high-performance thermoplastics whose chemical structure remains unchanged when molding it into a different shape. Compared with thermosetting polymers, these materials remain free of monomers and porosities. These advantages are based on their chemical structure, resulting in high strength, stiffness, and good resistance to hydrolysis, which makes them suitable for extremely demanding conditions.
However, because of its crystalline structure, PEEK's performance is limited, and the complex manufacturing process needs fingertip accuracy, according to the company. Unlike PEEK, PEKK displays both amorphous and crystalline material properties, giving it important advantages, such as the following:
High tensile, fatigue, and flexural strength
Ideal dimensional stability
Excellent wear and abrasion resistance
Compatibility with all current sterilization methods
Radiotranslucency
The natural high strength and low modulus of PEKK products can be modified by adding selected fillers and altering their concentration and the processing technique, giving it a broader range of uses than PEEK. This wider processing-parameter window, plus up to 80% higher compressive strength than PEEK materials, makes the use of PEKK particularly interesting for crowns, bridges, cobalt-chromium (Co-Cr) substitute/alternative frames, inserts, abutments, and implants.
The density and stiffness of Pekkton nearly matches that of human bone and dentin. Pekkton compares well to human dentin in terms of compressive strength and shows physiological thermal conductivity. It is suitable for both temporary restorations and permanent solutions, which can be processed simply and reliably by conventional methods such as injection molding, compression molding, or milling.
The base material, OXPEKK, developed by Oxford Performance Materials, passed the biocompatibility test over a period of 52 weeks according to the International Standards Organisation (ISO) 10993 standard and is approved by the U.S. Food and Drug Administration. The biocompatibility of Pekkton in accordance with U.S. Pharmacopoeia (USP) Class VI was confirmed by BSL Bioservice Scientific Laboratories.
With the shift from classic structural materials like gold and platinum to either nonprecious materials like Co-Cr alloys or zirconia, new problems and challenges have arisen. Metal-free solutions are in increasing demand for fixed dental protheses and also frameworks in removables.
According to Copponnex, Cendres+Métaux can exclusively offer an alternative to metal and zirconia with the biocompatible, aesthetic, and versatile Pekkton material.
However, it is unclear if and when Pekkton will be available in the U.S.
In addition to Lab Day (February 24-25), the company will also be available to discuss Pekkton and its other products at the upcoming American Prosthodontic Society meeting in Chicago (February 23-24) and the Academy of Osseointegration meeting in Phoenix (March 1-3).
Carlheinz Swaczyna was a general dentist in Krefeld, Germany, for 30 years before retiring in 2007. He writes regularly for the weekly German dental publication DZW - Die Zahnarztwoche.