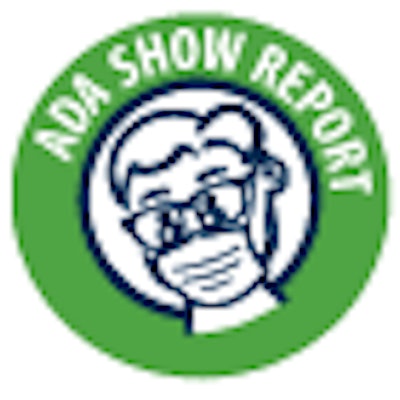 SAN FRANCISCO - In anticipation of the company's 90th year in business, dental rotary instrument maker Komet unveiled its new logo and new look for Komet USA at a press conference today at the ADA Annual Session.
"The old logo displayed our tradition and manufacturing prowess. It is what we are," Komet USA Chief Operating Officer Warren White said in an interview with DrBicuspid.com. "But it showed a little rustiness -- so we wanted to knock that rust off with a cleaner, more modern look."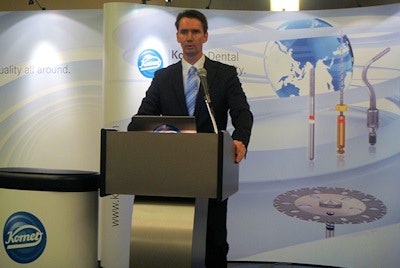 Komet CEO Klaus Ruebesamen speaks to the press during the unveiling of Komet USA's new logo.
Komet headquarters in Lemgo, Germany, and Komet affiliates worldwide view the logo as a unifying image designed to reflect the concepts White described. It incorporates lettering associated with the Komet brand and identity, and directly merges it with the other Komet hallmark: the spiral, described by the company as a signifier for dynamics and innovative power. The circular shape is evocative of Komet rotary instruments, which continue to constitute Komet's primary product range.
The corporate logo redesign is in accordance with customer perceptions and expectations and represents an "evolution rather than revolution," according to the company.
"Once we find a strategy that works, we're relentless," White said. "We're like the Dallas Cowboys: We'll choose a running play and run it and run it until it no longer works."

Aerial view of Komet's facility in Lemgo, Germany. Image courtesy of Komet.
Of all direct-sold burs on the market, Komet has the greatest proportion of usage by younger dentists, he added.
"That tells me that our advertisements have been working -- and there's been a lot of focus on dental schools and social media," White said. "We think that, with that, we'll gain market share over time because the younger dentists will eventually be buyers. Right now they're associates that may influence buyers, but they're not primary buyers."
During their press conference, Komet CEO Klaus Ruebesamen took time to describe the roots of the company, which started with door-to-door salesmen in Düsseldorf, Germany, in 1923. Years later, the family-owned manufacturer relocated in 1943 after its facility was destroyed in World War II. They had a choice to make: Lemgo or a location in East Germany.
"I am very fortunate that we chose Lemgo," Ruebesamen said with a touch of dry humor. "Otherwise, I would not be here today."
He displayed photos of the operation and described the company's green initiatives and sophisticated shipping system, where robots select order items from the company warehouse so that they may be shipped out to buyers within 24 hours of an order.