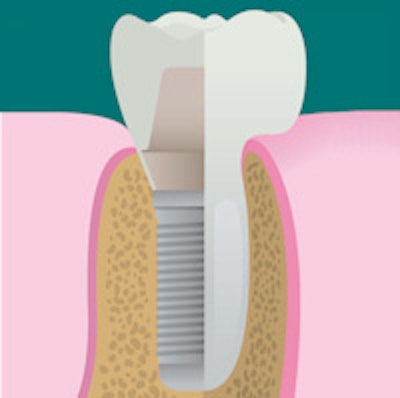 The dental implant market, after years of double-digit growth as high as 15%, has clawed back from negative growth inflicted by the global economic downturn, with reports of flat or single-digit growth in some markets.
As positive economic news rolls in about the U.S. economy, there also appears to be optimism about the role of implants in dental practices. Dental professionals are seeking to diversify the services they offer, as evidenced by the attendance at a recent implant complications symposium sponsored by Straumann in San Francisco.
"The U.S. implant market continues to grow strongly," Carmen Chan, an analyst at Millennium Research Group, said during an interview with DrBicuspid.com. "We anticipate a bump in the market in 2013, as the addition of the medical excise tax means that some competitors will likely increase their prices. But afterward, growth will remain gradual. Factors that are helping to drive growth include economic recovery, patient awareness and demand, as well as more doctors providing this treatment."
Patients are re-evaluating their situation and spending priorities, she added. "Many have the willingness again to say, 'I can afford my dental implant. I've put it off for a couple years, and I've settled in with my other expenses,'" Chan said.
Challenges remain
However, the first-quarter financial results of some major implant makers suggest that broad recovery has yet to arrive. While Dentsply saw a 2% bump in 2013 first-quarter net sales to $732 million compared with same period the previous year, and reported net income of $72 million, up from $53 million in the first quarter of 2012, its two biggest competitors -- Nobel Biocare and Straumann -- continue to struggle.
Nobel Biocare is "battling bad luck and bad decisions," according to a June 3 Reuters analysis. European consumers stopped spending on cosmetic dentistry during the financial crisis, competitors have introduced less-expensive implants, and the company has suffered from a "muddled strategy" and some poor marketing decisions, according to Reuters. The company has yet to issue its 2013 first-quarter results.
"The U.S. implant market continues to grow strongly."
— Carmen Chan, Millennium Research
Group
Meanwhile, Straumann is facing challenges of its own. In the first three months of 2013, Straumann generated revenue of 175 million Swiss francs ($187 million), down 6% from revenues of 185 million francs ($197 million) for the same quarter a year ago. To absorb the slower-than-anticipated recovery, the company has implemented restructuring and cost-saving initiatives, including cutting some 200 jobs by year's end. And in January the board of directors appointed a new CEO, Marco Gadola, after Beat Spalinger departed by mutual agreement.
While revenue developments were stable in North America and positive in China and Latin America, the large European and Japanese markets suffered further from the weak economy and competition from lower-cost players, the company noted when it announced its first-quarter results.
"I agree overall the global dental implant markets have not been doing well, and some of the large dental implant manufacturers that publish financials have indicated declines in Q1 2013," Chan acknowledged. "That said, Straumann's revenue decline of 6% is on a global scale, largely influenced by declines in Europe and Japan but not North America. In terms of North America specifically, Straumann's sales have not declined but remained stable. This is also the case for other dental implant manufacturers, where the average seems closer to low to mid single-digit growth."
Dentists aren't the only ones diversifying; the companies that serve them are too, she added.
"A developing trend is the ability to say that 'I'm not only a provider of dental implants, but I am a provider of dental products altogether,' " Chan said. "The manufacturers are not moving away from implants but expanding into complementary products -- things like dental biomaterials, CAD/CAM, crowns and bridges. They want to be that one-stop shop and are leveraging their reputation in the implant business to fuel revenue in related dental businesses. Then I have a strong brand loyalty with my customers who are now using all of my products."
An example is Dentsply's acquisition last year of Astra Tech, which gave the company a CAD/CAM abutment presence and a focused dental implant division. Dentsply also acquired a portion of the South Korean company DIO, giving it a value-priced implant option that won't affect its premium brands.
"They can still capture a portion of the value market by having interest in a competitor," Chan said.
European slump
The European market, however, has yet to experience even a modest recovery.
"We've noticed with the euro debt crisis a slow decline in growth, especially in countries like Spain or Italy that have been heavily impacted," Chan said. "You're getting a little bit more or a slight contraction to the market, but in the next two years or so, we expect that the market will pick up."
Consequently, 2013 will likely require patience from implant companies waiting for a rebound. The culprit, according to Chan, is a continued lack of consumer confidence. There are several reasons for the contraction, she noted. In particular, implants are an elective procedure that often yield little to no insurance reimbursement, which can pose a challenge in regions where the economy has not rebounded as well as it has in North America.
"You can imagine that if there is this sort of economic uncertainty, soaring unemployment, people are hesitant to spend money on such a procedure," Chan explained. "This is a patient-driven procedure. So practitioners have to figure out, currently, in this economic situation, are patients able or willing to spend the money for the procedure? The answer to both of those is, they're less able and they're less willing."
Meanwhile, Asia-Pacific is generally more akin to the U.S. market than Europe as a gradually growing market. And then there are the countries that make up the "emerging markets."
"The emerging markets in our reports are made up of Brazil, Russia, China, and India -- the markets that will continue to contribute the strongest growth at high single-digit to low double-digit growth rates," Chan noted. "These dental implant manufacturers want to focus on these markets because of that growth, where they can expand their presence and be able to make up revenues in these regions, because they're not able to sustain high revenue growth in the established markets like Europe."
Straumann, for example, expanded into the Brazilian market last year with the purchase of Neodent in an attempt to tap into the healthy cosmetic dentistry market in Latin America.
Overall, Millennium has noticed more competition in the implant market, with some 200 companies now offering products. Even so, "across the globe, the premium competitors dominate the market," Chan said. "The smaller competitors are grabbing a little bit more of the revenue, but it hasn't been enough to overtake the premium competitors."
Looking ahead, Chan does not anticipate any major changes to the implant market for the rest of 2013.
"The North American and Brazil, Russia, India, and China markets will experience growth stemming from similar factors like patient demand, increasing accessibility due to general dentists adopting the procedure, and economic recovery or development that allows patients to pay for treatment," she said.