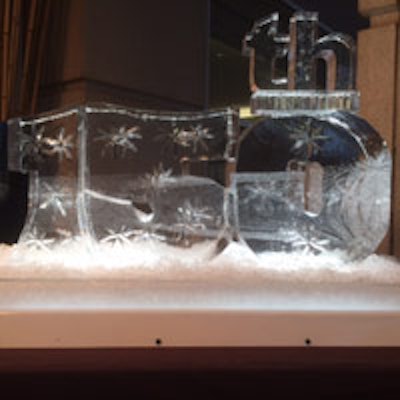 CHICAGO - Lasers, tablet technology, and new printers were among the new products introduced on the first day of the 2015 Chicago Dental Society Midwinter Meeting. Companies including Convergent, AMD Lasers, BaseVac, Millenium Dental, and 3D Systems launched new or upgraded products.
Convergent announces Solea addition
At the opening of this year's Midwinter Meeting, Convergent Dental announced the addition of a new extra-coarse cutting 1.25 mm-XC spot size to its Solea CO2 9.3-micron dental laser for hard and soft tissue. This new spot size increases Solea's speed by a factor of four, making it easier than ever to quickly remove large amounts of tooth structure at or above drill speed, according to the company.
Convergent CEO Michael Cataldo said the XC spot size is the latest example of the company's commitment to continuous innovation and its customers' success.
"We wanted to get to the point where dentists could do a crown prep as fast with a laser as they can with a drill," Cataldo told DrBicuspid.com.
Dentists can use Solea's intuitive touchscreen interface to switch between spot sizes with a finger tap to perform anesthesia- and blood-free procedures. The 1.25 mm-XC spot size is being offered as a free software upgrade to all current Solea dentists and will be included in all new units.
"We wanted to get to the point where dentists could do a crown prep as fast with a laser as they can with a drill."
— Michael Cataldo, CEO, Convergent Dental
The laser's 9.3-micron wavelength is highly absorbed in both hydroxyapatite and water, vaporizing tooth structure with speed, precision, and an analgesic effect, according to Convergent. The 1.25 mm-XC spot size adds a new high-end capability for rapidly removing thick enamel for crown preparations and large fillings.
Solea dentists have reported performing six or more additional procedures per day as a result of being able to treat patients without anesthesia or spending time controlling bleeding, the company said. The new 1.25 mm-XC spot size now extends that capability even further with its increased speed.
"I am extremely proud of the paradigm shift that my team has brought to the practice of dentistry," Cataldo said.
BaseVac introduces PortaVac
BaseVac is introducing PortaVac, a portable dental vacuum, as a part of the company's new Porta vacuum series at the Midwinter Meeting.
PortaVac is designed for mobile dental clinic applications at schools, community service locations, and military field positions where mobility, simple setup, and easy shipping are required. Based on proven rotary vane technology, the PortaVac offers the same industry-leading level of suction found on all BaseVac vacuum systems, according to the company. With the adjustable vacuum level control, PortaVac can provide surgical-level suction 24/7. It is built using industrial-quality components to provide powerful performance in harsh conditions.
The new unit, and other Base Vac oil-free vacuum systems and compressors, can be found in booth 635 at McCormick Place West.
Millennium launches tablet technology
Millennium Dental Technologies will launch new tablet technology to control medical devices and, specifically, the PerioLase MVP-7 digital dental laser.
The Samsung tablet with the enhanced graphical user interface (eGUI) was engineered by Millennium's "brain trust" for the PerioLase MVP-7, according to the company. The eGUI system has convenient touchscreen capabilities that allow clinicians to pull patient treatment information right onto their Samsung Galaxy tablet and communicate directly with the PerioLase MVP-7. The PerioLase MVP-7 was developed exclusively for the patented laser-assisted new attachment procedure (LANAP) and laser-assisted peri-implantitis procedure (LAPIP) protocols.
"I've been working with this interface in my patient care clinic for over a year, and it's provided me with all the key operating parameters I would ever need or want," stated Robert H. Gregg II, DDS, co-founder and president of Millennium, in a press release.
More than 100 hours of focus groups comprised of highly regarded dental professionals, as well as two years of engineering, have gone into the development and design of the eGUI system. The eGUI features a display of more than 1 million pixels, presenting 16.7 million colors on a 10.1-inch, WXGA TFT touchscreen display.
Patient information captured on the eGUI will have print capabilities that allow for Bluetooth, high-resolution printing. In addition, the enhanced graphical user interface is HIPAA-compliant.
AMD Lasers launches latest Picasso laser
AMD Lasers unveiled the newest addition to its line of Picasso dental lasers, Picasso Perio, at the Midwinter Meeting.
Picasso Perio combines ease of use, portability, training, and marketing/treatment planning at an affordable price, according to the company. Picasso Perio dental laser technology offers superefficient cutting speeds for soft-tissue surgeries, preprogrammed, easy-to-use presets for FDA-cleared periodontal treatment protocols, and industry-first treatment timers.
The idea behind the Picasso laser is to make laser dentistry affordable, according to Alan Miller, president and founder of AMD Lasers.
"We launched Picasso and Picasso Lite with the vision to make laser dentistry affordable for every dentist and hygienist and place a laser in every operatory in every office around the world," he stated in a press release. "With Picasso Perio, we are continuing this mindset, by providing an affordable total laser solution to periodontal disease for the general practitioner."
New Picasso Perio owners will receive, as part of their package, in-office multiday training by a certified Picasso Perio Laser Treatment Center dental hygienist, covering treatment planning and billing, laser safety, full office certification, and hands-on clinical training.
Also, each Picasso Perio package includes a comprehensive advanced marketing launch kit consisting of a practice-focused marketing plan, including a periodontal laser landing page, custom press release, patient-focused marketing materials, and more, that will increase patient awareness and provide all the tools a practice needs to market laser dentistry effectively and efficiently, according to the company.
3D Systems debuts printer
3D Systems announced the immediate availability of its all-in-one medical 3D printer, the ProJet 3510 DPPro, which the company is debuting at the Midwinter Meeting this week.
The ProJet 3510 DPPro, the latest in 3DS' MultiJet (MJP) line, enables dental labs to print precision dental wax-ups; durable implant drill guides; temperature-resistant, thermoformable orthodontic patterns; and crown and bridge molds interchangeably, at up to twice the throughput of other printers, according to the company.
"Our primary purpose is to democratize access to more affordable and powerful tools for the benefit of our customers," stated Buddy Byrum, vice president of product management for 3DS, in a press release. "With its high resolution, high capacity, and expanded material compatibility, the DPPro can support the widest range of medical applications, at a very low cost of ownership."
The multipurpose ProJet 3510 DPPro 3D printer provides 24/7 printing capabilities and features a large build volume, allowing lab managers maximum throughput and tighter production schedules, according to the company. With the ProJet 3510 DPPro's variety of specifically engineered materials, labs can print enhanced, highly accurate wax-ups for crowns, bridges, and partial denture frameworks, in addition to working models for crown and bridge, orthodontic, and partial dentures.
The ProJet DPPro also produces customized implant drill guides in a durable biocompatible plastic material and features efficient material use, low-maintenance operation, and a five-year print head warranty.