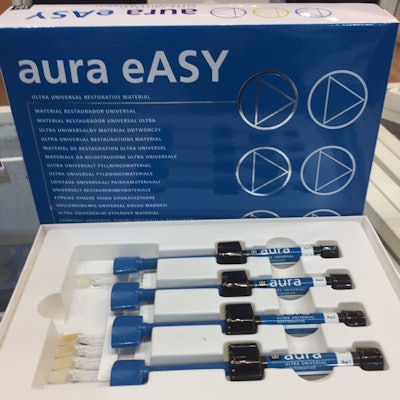 COLOGNE, GERMANY - As part of his opening statements during the Henry Schein press conference at the International Dental Show (IDS), Stanley Bergman, the company's chairman and CEO, said that humanity was currently in the middle of its fourth industrial revolution.
We are entering the age of interoperability, Bergman said, and he commented on the technologies that are advancing humanity and also the field of dentistry. It is up to the dental industry and dental professionals to keep up with the advancements necessary to help their patients have the best oral health possible, he noted.
Part one of our preview of new products on display at the IDS includes periodontal and restorative products. Look for part two featuring endodontic, imaging, and other products on Tuesday, March 28.
Some of these products are currently available in the U.S., while others will make their appearance later.
Periodontal
American Eagle debuts new instruments
With thinner blades and a lighter handle, the new Pro Thin instrument line from American Eagle Instruments could be the answer to some of the more difficult scaling challenges.
The line includes the Blackjack Pro Thin scaler, Barnhart 5-6 Pro Thin scaler, Gracey Access 1-2 Pro Thin curette, Gracey Access 7-8 Pro Thin curette, Gracey Access 13-14 Pro Thin curette, and Gracey Access 15-16 Pro Thin curette.
Each instrument features American Eagle's sharpen-free XP Technology.
Restoratives
3M launches new composite
Filtek is a well-known name in the dental industry. Now, 3M is making sure that it's a name that also means a bulk fill option that can be more aesthetic.
3M created Filtek One especially for the posterior. It's also designed to give practitioners up to 5 mm of depth with excellent aesthetics.
At the company's IDS booth, one of the scientists behind Filtek One stated that the company's goal was to give dentists peace of mind when using the product. Dentists often asked how deep they could go with a bulk fill and not have to worry about how it would work and look, he said.
"A satisfied patient is key," he emphasized.
It sounds simple, yet it's something that a lot of dental practices seem to lose track of during a busy day. By increasing opacity without sacrificing the depth of cure, 3M is hoping that Filtek One will help a lot of patients and dental professionals be satisfied at the end of the day.
Ivoclar Vivadent introduces milling machine
Ivoclar Vivadent highlighted the new PrograMill One milling machine its booth at IDS.
The PrograMill line actually includes four milling machines, including the PrograMill One.
What makes the PrograMill One stand apart? First, it's the world's smallest 5-axis milling machine. Second, the workpiece rotates around the tool, ensuring that the feed remains constant and the tool never leaves the block. This helps minimize milling time and tool wear, according to the company.
Naturally, the unit has been developed for milling IPS e.max in particular.
SDI launches nanohybrid composite
Easy is a good thing, right? Well, that's the thinking behind SDI's new universal nanohybrid composite, the Aura Easy.
This composite simplifies restorations and contains four simple shades that equate to the Vita shade guide. According to SDI, the Easy name relates to three key components:
Easy handling for effortless placement
Easy restorations thanks to a unique blend of filler and resins
Easy shade matching for most posterior and anterior restorations
SDI produces a nonsticky, easy-to-sculpt, and nonslumping universal composite that can meet day-to-day needs. Sounds easy, right?
Vita debuts nonmetal ceramic implant
Are you ready for an implant that has absolutely no metal in it? It's close to coming to the U.S.
Vita has been working on its ceramic implant for more than a decade, waiting on clinical trials to indicate it was ready for market. With those trials concluded and results that are reportedly spotless, Vita Clinical, a division of Vita, was ready to openly talk about a metal-free implant at IDS.
What sets this implant apart, besides its material, is that it is one continuous piece of zirconia. The implant is suitable for the maxilla and mandible, and it is usable for single-tooth crowns and abutments (up to three elements), according to Vita.
It's now available in Europe and expected to be in the U.S. sometime in 2018.
Voco introduces new composite blocks
Another new product that debuted at IDS was specifically designed to make the most out of today's milling technology.
Voco unveiled its Grandio blocs composite blocks, the latest addition to its Grandio product family for digital prosthetics.
The fully cured composite blocks have a filler content of 86%, making them the most highly filled in their class, according to the company. Their biaxial flexural strength also achieves values normally only associated with silicate ceramics.
Another benefit to the new product is that it can be milled more finely to achieve even greater accuracy of fit. This will save time as the time-consuming firing process is dispensed with, and composites can be processed more quickly using abrasives.
Grandio blocs can be processed using standard milling devices. They come in two sizes for inlays, onlays, and single crowns, as well as in two translucency levels for anterior and posterior restorations.
Editor's note: No fee was paid to DrBicuspid.com for inclusion in this editorial feature.