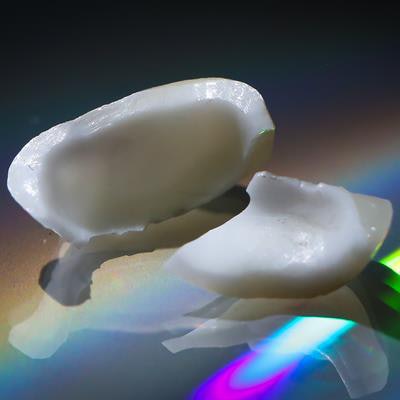 In this case, a 52-year-old male patient presented to the dental practice for a standard examination. During his oral evaluation, an old and fractured porcelain-fused-to-zirconia crown on tooth #15 was revealed.
Clinical objective
An atraumatic removal of the crown on tooth #15 was completed efficiently using the Solea dental laser (Convergent Dental) for treatment. The clinical objective for the case was to achieve a clean and simple removal of the fractured restoration, without using multiple diamond burs and unnecessary trauma to the surrounding tooth structure.
Technique
Sectioning the exposed zirconia was successful, and the restoration stayed intact as a result of the existing feldspathic porcelain that remained interproximally and on the occlusal table.
Once the porcelain was removed with a fine diamond bur, the laser was used to section the newly exposed zirconia. A spoon excavator was then placed in the area where the material was ablated. By gently twisting the spoon, a clear view of the now-split zirconia was presented.
The crown was removed and the entire procedure was completed quickly. Most importantly, the prep was kept exactly to the affected area and the tooth structure was conserved.
Enhanced experience
The laser's precision allowed for total cutting control throughout the treatment, leading to predictable outcomes and optimal results. With the clinical objective met, the procedure was completed minimally invasively and time savings were gained.
If carried out traditionally, it would take approximately five minutes to remove the crown. But with the laser, the time was reduced to seconds. That said, the ability to save five minutes alone is significant to any practitioner wanting to maximize the total number of appointments seen each day.
In addition to saving valuable time, using the laser allowed the practice to reduce expenses for an otherwise costly procedure. With traditional dentistry, multiple fine diamond burs (at $5 to $10 for each bur) would have been used in an electric handpiece. Although it doesn't sound as if it would break the bank, the general overhead and ordering costs specifically for this procedure would be drastically affected over time. Not to mention that it takes three or more burs to remove a single crown.
From both practitioner and patient perspectives, the experience was enhanced. The practitioner was able to complete the appointment faster and with greater efficiency. The patient spent less time in the chair and was happy to get back to his day after a smooth, simple, and fast visit to the dentist.
Timothy Anderson, DDS, is the founder and owner of Missouri River Dentistry in Bismarck, ND.
The comments and observations expressed herein do not necessarily reflect the opinions of DrBicuspid.com, nor should they be construed as an endorsement or admonishment of any particular idea, vendor, or organization.