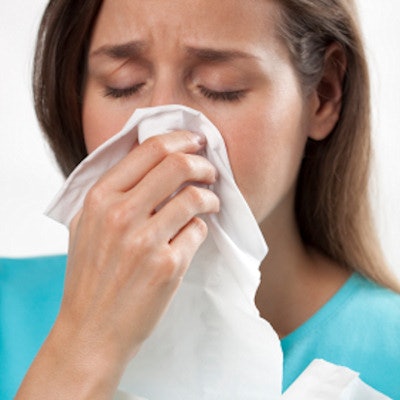 Which dental materials are responsible for the most contact allergies? Researchers looked at patient data and found metals topped the list, but other common culprits included composites and cosmetic materials.
The number of people with allergies is rising, according to the American Academy of Allergy, Asthma & Immunology. Nearly 40% of schoolchildren worldwide have a sensitivity or allergy, and some of those allergens appear in the dental office.
Researchers from Leipzig University in Germany wanted to understand what dental materials were frequently associated with contact allergies. They published their findings July 22 in the Swiss Dental Journal.
"Allergic contact dermatitis has thus reached an alarming frequency similar to that of diabetes mellitus," wrote the authors, led by Constanze Olms, Dr med dent, a specialist at the university's department of dental prosthodontics and materials science. "The introduction of new materials into dentistry also increased the likelihood of an allergic intolerance reaction as a result of dental treatment."
The researchers looked at documented contact allergy data from 86 patients who visited the prosthodontics clinics from 2012 to 2016. Women were far more likely to experience a contact allergy than men (84% versus 16%), they found. Patients with contact allergies also tended to be older with an average of five allergies.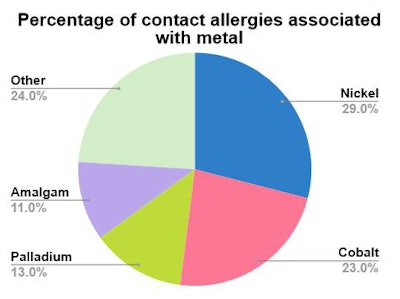 Metals accounted for the largest percentage of contact allergy complaints. Nickel and cobalt were the most frequent metal allergens, but patients also reported reactions to amalgam, gold, and titanium.
"It is the dentist's responsibility to choose which materials and combinations of materials to use."
— Constanze Olms, Dr med dent, and colleagues
Other common materials associated with contact allergies included cosmetics, composites, drugs, and plastic. Allergies to local anesthetics were rare, but the study authors cautioned they're still noteworthy.
"Allergies to the ingredients of local anesthetics (primary and/or preservatives) were very rare in the present study," they wrote. "Nevertheless, they have a high priority as dental pharmaceuticals. In most cases, an allergic reaction (type I) occurs immediately after injection."
The contact allergies were associated with a number of subjective and objective symptoms, the researchers reported. Half of the patients had mucosal changes, including contact stomatitis or an oral lichenoid lesion. One-third experienced burning on the tongue, palate, or generally in the mouth.
"Patients with objective and subjective symptoms of contact allergies to dental materials should not be exposed to allergens," the authors wrote. "We recommend that in daily clinical practice dental professionals pay more attention to symptoms of contact allergy and allergy in the patient's history. It is the dentist's responsibility to choose which materials and combinations of materials to use."