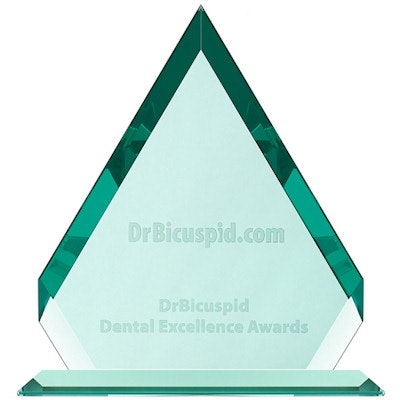 We asked. You delivered.
Nominations for the 2019 DrBicuspid Dental Excellence Awards came flowing in from all parts of North America. Some great products were nominated in each of the 10 categories, and DrBicuspid.com is pleased to unveil the finalists in each category.
Voting is officially open for each of the categories. You can choose your favorite by clicking the button below.
The Dental Excellence Awards recognize the best new products and services in the dental industry. The 2019 awards cover products introduced during the period between October 1, 2018, and September 30, 2019. Voting is open until January 12, 2020. Votes will be tallied at that time, and the winners will be announced in late January, with awards presented at the 2020 Chicago Midwinter Meeting.
The finalists in each category are listed below with the product name first, followed by the company.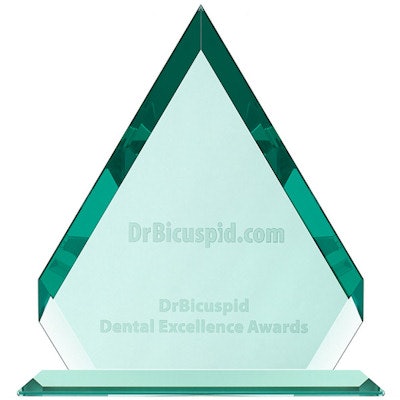 Best New CAD/CAM Product
3M Chairside Zirconia block, 3M
Creo C5 3D printer, Planmeca
DGShape Time Reduction Kits, Roland
Grandio disc, Voco
J720 3D printer, Stratasys
KeySplint Soft 3D printing resin, Keystone Industries
Best New Consumer Product
Genius X toothbrush, Oral-B
ImplantClean toothbrush, Implant & Perio Care
PerioSpot antimicrobial gum therapy gel, Dental Herb Company
Pro-Sys VarioSonic toothbrush, Benco Dental
Sonic-Fusion water flossing toothbrush, Water Pik
Best New Dental Equipment Product
ActiveAqua water treatment system, Planmeca
A-dec 500 chair and delivery system, A-dec
Bio/Screen oral exam light magnifying eyepiece, AdDent
Bluewave soft-tissue diode laser, Clinician's Choice Dental Products
Vac Attack Green evacuation system cleaner, Premier Dental
Yomi robotic dental drill system, Neocis
Best New Dental Hand Instrument
HD Black Line mirrors, Hu-Friedy
Prophyflex 4 air polisher, KaVo Kerr
StarETorque electric handpiece, DentalEZ
Best New Diagnostic/Imaging Device
CS 3700 intraoral scanner, Carestream Dental
Emerald S intraoral scanner, Planmeca
iTero Element Foundation intraoral scanner, Align Technology
Primescan intraoral scanner, Dentsply Sirona
X-Mind Prime digital imaging system, Acteon
Best New Endodontic Product
NeoBurr 3302 carbide bur, Microcopy
TheraCal PT calcium silicate, Bisco
Traverse rotary glide path file, KaVo Kerr
Yellow DCB abrasives, Komet USA
Best New Preventive/Hygienist Product
AeroPro cordless prophy handpiece, Premier Dental
Bite Light mouth prop attachment, Ascentcare Dental Products
CaRing tension relief band, Palmero Healthcare
DryShield single-use mouthpiece, DryShield
Icon-Etch Refill etching gel, DMG America
Perio Restore at-home treatment, DenMat
Best New Restorative Product
3s PowerCure composite system, Ivoclar Vivadent
G-ænial universal injectable composite, GC America
LuxaCrown crown and bridge material, DMG America
Ossix Bone ossifying collagen sponge, Datum Dental
Pro-V C&B composite, Bisco
Best New/Updated Software/Service
CEREC Ortho SW 2.0 software, Dentsply Sirona
Dentrix/CareCredit integration, Dentrix/CareCredit
JellyFishBI tool, JellyFishRAS
Pala Design Studio denture design software, Kulzer
TeleDent 2.0 teledentistry system, MouthWatch
Best New Toothpaste
Crest Gum and Sensitivity toothpaste, Crest
Livfresh Wintergreen gel, Livionex
Native toothpaste, Native
Rapid Relief Whitening toothpaste, Sensodyne