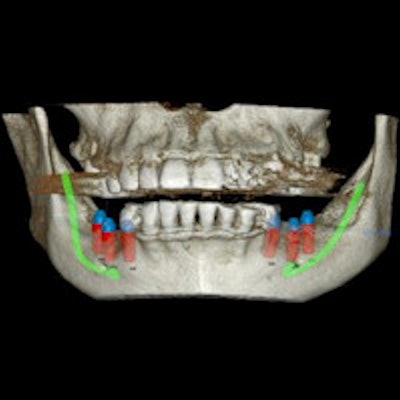 Clinicians can save money and time by 3D printing open impression trays for patients in need of multiple implant-supported prostheses, according to a study published on February 14 in the Journal of Prosthetic Dentistry.
A team of Chinese authors compared the accuracy and feasibility of using a digital dentistry technique with conventional open tray fabrication. The CAD/CAM workflow saved more than $4 per impression without sacrificing accuracy.
"The 3D-printed custom open tray is more time efficient, less labor-intensive, and less expensive and is made with a renewable material," wrote the authors, led by Dr. Xulan Yang, a postgraduate student in the oral implantology department at Peking University School and Hospital of Stomatology in Beijing.
Creating custom open implant impression trays can be both labor-intensive and time-consuming, requiring multiple appointments and experienced dental laboratory technicians. With the growth of implant dentistry, researchers are looking for ways to improve this workflow using technology.
One solution is to use digital dental technologies to design and 3D print custom open impression trays. The authors investigated the accuracy of this CAD/CAM method in their prospective, comparative study.
The study included 22 partially edentulous adults visiting Peking University's implant department from 2018 to 2019. The patients required impressions for multiple implant-supported restorations on the same arch, and the authors created both a conventional impression tray and a 3D-printed tray for all patients enrolled in the study
To create the 3D-printed tray, a certified dental laboratory technician began by taking a scan of an abutment-healing level impression. A postgraduate dental student then designed an open tray based on the scan data and 3D printed the tray using a renewable and biodegradable material.
The two trays did not significantly differ in accuracy, fit, and impression quality. The authors found an average absolute difference in linear distances of just 15.4 µm between the two trays and reported strong consistency between the designs.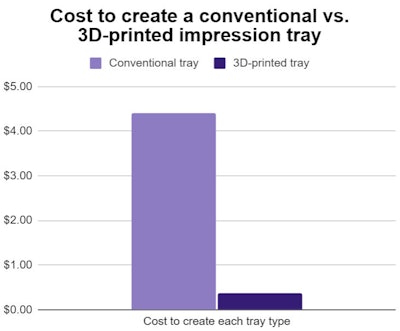 While the two trays had similar accuracy, the 3D-printed tray bested the conventional design in the authors' feasibility analysis. The 3D-printed tray cost approximately 96% less than the conventional one. It also took 44 fewer minutes to create.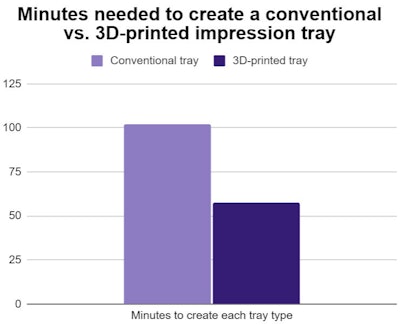 The authors noted that the digital dentistry process studied has numerous advantages, including working with different implant locations and systems. Perhaps more importantly, it also allows patients to get impressions done in one visit.
"In the present workflow, no additional data or preparation were needed, a convenient healing-abutment level preliminary impression initiated the custom open tray, and a definitive impression could be made 1 hour later at the same visit," they wrote.
Based on their findings, the authors concluded that 3D-printed custom open trays can be suitable for clinical application. However, they cautioned that their accuracy findings compared the 3D-printed trays to the conventional ones and were not a measure of trueness.
"Within the limitations of this study, the 3D-printed custom open trays were clinically accurate, efficient, and cost-effective for impressions of multiple implants," they concluded.