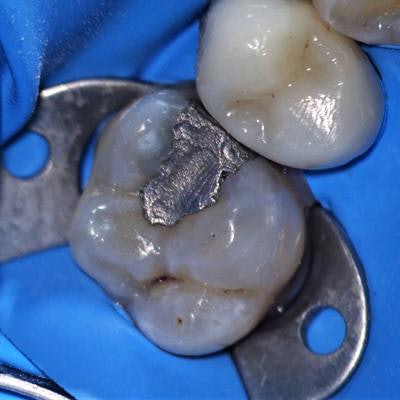 A 30-year-old man presented to the dental practice with a chief complaint of a sensitive tooth on the upper left posterior. Upon examination, the patient's discomfort was found to be due to decay and a leaking old amalgam on tooth #14. A thermal test produced normal results, and a diagnosis of reversible pulpitis was determined.
The clinical objective was to remove the old amalgam and decay and restore the tooth with a composite material, a rather common restorative situation. In this case, Clearfil Majesty ES-2 Universal (Kuraray Noritake Dental) single-shade composite was chosen due to the material's simplicity, ease of use, and ability to blend in with no need for blocker or opaquer in most clinical situations.
The procedure began by isolating the affected tooth from oral fluids using a rubber dam, followed by the mechanical removal of the amalgam and decay as completely, yet conservatively, as possible to maximize tooth structure preservation. Next, removal of the biofilm layer was achieved using a prophy jet handpiece.
A sectional matrix band was placed and the preparation was selectively etched with primer and blue etch for 10 seconds only on the uncut enamel. An immediate dentin sealing technique was performed using Clearfil SE Protect (Kuraray Noritake Dental) according to the manufacturer's instructions for use.
This was followed by a resin coating using Clearfil Majesty ES Flow, then placement of a layer of Clearfil Majesty ES-2 Premium Dentin A2 to cover the dark stain in the dentin. In this type of case, using a darker shade of flowable resin in a dentin shade will easily mask the color and recreate the natural tooth appearance.
A stratification technique was used to restore the tooth by layering the universal composite in approximately 0.5-mm increments, polymerizing each layer with a curing light before applying subsequent layers. The composite used eliminated the need for a blocker shade, streamlining the procedure.
After completing the composite buildup and shaping the occlusal surface, the matrix band was removed for the final cure of the buccal, lingual, and occlusal surfaces. Polishing and finishing was accomplished with a pop-on disc used with a polishing cup and brush.
Dr. Jorge Zapata is a general dentist in Ogden, UT, who has been practicing microscope dentistry in his private dental practice since 2005. He is a current member, executive board member, and treasurer of the Academy of Microscope Enhanced Dentistry. He can be contacted at zapata_dental@yahoo.com.
The comments and observations expressed herein do not necessarily reflect the opinions of DrBicuspid.com, nor should they be construed as an endorsement or admonishment of any particular idea, vendor, or organization.