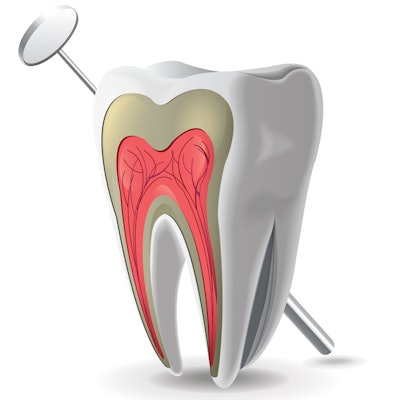 The American Association of Endodontists (AAE) supports vital pulp therapy as a treatment option for patients who have adult teeth with injured pulps and fully formed roots, according to a position statement released on May 24.
Root canals and extractions were the only recommended treatment options for these patients until now. Prior to this new statement, vital pulp therapy was reserved for adults with tooth roots that have not fully formed, according to the association.
A special committee of the AAE guided the recommendations in the statement, which addresses the use of vital pulp therapy, biomaterials, and permanent restorations. The guidance is based on multiple recent studies that show a high rate of success using vital pulp therapy in properly chosen cases.
"This statement may be of use to any practitioner in assessing whether they have the appropriate expertise and armamentarium to perform [vital pulp therapy] procedures in appropriately selected cases," the AAE wrote in the document.
The option of vital pulp therapy
For years, endodontists focused on vital pulp therapy to preserve the radicular pulp in immature adult teeth to ensure a tooth's complete root formation. Now, the focus of therapy has expanded, giving clinicians more treatment options for mature teeth, including those previously thought to have irreversibly inflamed pulps.
Recently, vital pulp therapy has been more broadly considered thanks to new clinical and biological considerations that challenge the irreversibility of pulpal disease, the AAE wrote. Evidence indicates there isn't a fixed boundary for when pulp can be repaired, and research is underway to explore the role of inflammatory mediators that better indicate pulpal status.
To get a better idea of a patient's disease, dentinal fluid or pulp blood could be tested in the office to determine markers, such as matrix metalloproteinase-9, that are linked with tissue degradation. If molecular biologic tests are not available, clinicians should view the pulp via a surgical microscope, according to the statement.
Planning for vital pulp therapy
Every vital pulp therapy treatment plan should include immediate restoration placement due to benefits such as the prevention of microleakage and the reduction of postoperative sensitivity and thermal conductivity. Also, restoring teeth immediately has no known negative effects, the AAE wrote.
For pulp procedures, calcium silicate cements, including the widely used mineral trioxide aggregate, show high one- to two-year success rates. Furthermore, calcium silicate cements show improved quality over calcium hydroxide-based material when considering the formation of mineralized barriers, according to the guidance.
When choosing a restorative biomaterial, clinicians should consider current evidence while also assessing a patient's reliable mineralized tissue formation and continued pulp vitality. The procedural decision should also consider operator assessments, clinical judgement, overall treatment plan, and a patient's general oral and systemic health.
Although the AAE supports the use of vital pulp therapy, it recommended that researchers conduct additional clinical trials "to assess long-term outcomes of vital pulp therapy and the development of chairside techniques utilizing biomarkers to assess pulpal viability."