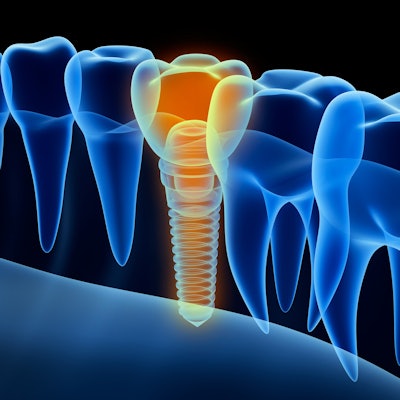 Gold-containing dental implants may have caused an allergic reaction in a 64-year-old woman's mouth that developed into the chronic inflammatory disease oral lichen planus. The case report was published on February 2 in the Cureus Journal of Medical Science.
Tests revealed that the woman had a gold allergy, and it was recommended that her implants be replaced. Clinicians should consider factors that may contribute to the development of oral lichenoid lesions when evaluating and treating patients, the authors wrote.
"This case represents the first such instance of gold dental fillings directly having an appreciable role in the development of oral lichen planus," wrote lead author Taha Rasul from the University of Miami and colleagues.
Lichen planus is a chronic skin and mucosal disease that mostly affects middle-aged patients but can occur at any age. The exact cause is unknown, but the condition might be considered an altered immune response characterized by dysregulated T-cell activation and subsequent inflammation, according to the authors.
In most cases, lichen planus lesions are purple papules with irregular but well-demarcated borders that often occur on the distal upper and lower extremities and the anogenital region. A defining characteristic is Wickham striae, which is characterized as fine gray or white dots or lines on top of the lesions.
Though the origin of lichen planus is not completely understood, it is linked to hepatitis C and contact dermatitis. Furthermore, metals, including lead and arsenic, can cause inflammatory and allergic reactions that can lead to lichen planus formation. In prior research, gold-induced lichen planus has been described as an effect of longtime consumption of gold salts or gold-containing medicines and supplements, according to the authors.
This particular case report describes a 64-year-old woman who was referred to clinicians in December 2021 to be reevaluated for contact dermatitis after she developed oral lichen planus. Although she had a history of self-reported allergic reactions to multiple medications, she did not visit an allergist before implant consultation, they wrote.
Specifically, her medical history included the development of a maculopapular rash on her palms, soles, and chest seven days after starting the antihypertensive drug doxazosin. The woman had similar reactions and lichenoid lesions after taking multiple antihypertensives, as well as other medications such as penicillin. Furthermore, the woman had several implants and a history of continuous mucosal irritation and hyperpigmented and thickened patches along her gumline and her upper and lower teeth.
After developing oral lichen planus, the patient was referred for allergy testing. A broad patch-testing panel was performed, and it was determined that she had a positive allergic reaction to gold, specifically gold sodium thiosulfate. Results were negative for other common allergens and environmental triggers such as aromatic compounds.
The woman was prescribed triamcinolone 0.1% to be applied to her mouth and told to follow up with her dentist. At a follow-up visit, dental analysis revealed that the metal bases of her crowns contained a significant amount of gold. Further follow-up with her dentist, as well as replacement of the crowns, was recommended to decrease persistent irritation, the authors wrote.
When a patient presents with oral lichenoid lesions, clinicians should consider aggravating factors, including those of dental origin, that may unexpectedly cause immune dysfunction, Rasul and colleagues wrote.
The woman's "oral lichen planus eruption was therefore likely a result of long-term mucosal irritation from the gold dental implants," they concluded.