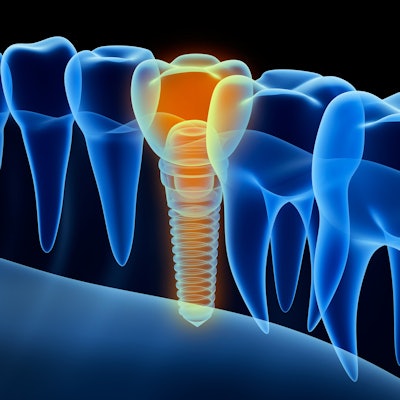 Patients are becoming more aware of the materials they are placing in their bodies and how those materials can affect their overall health. When selecting dental implants, patients want the least invasive materials possible. It is also important to understand the quality, material, and design aspects of the implants.
Throughout the years, a trend has emerged toward avoiding the use of metals in the body. Alternatives to the traditional titanium dental implant exist, with the best being zirconia.
With zirconia being a relatively new implant alternative, patients need to better understand the material, it's durability, benefits, and risks. Both materials are excellent when it comes to dental implants, so let's look at each and weigh the pros and cons.
Titanium dental implants
Titanium has been in use for dental implants since the 1960s in Europe before being brought to the United States. Over this period, titanium implants have been researched thoroughly and continue to be the most popular form of dental implant due to durability, effectiveness, and ease of care.
Pros
Titanium implants boast durability and strength. Teeth experience wear and tear throughout the day, so durability is important when it comes to implants. Titanium dental implants have the durability necessary to withstand extensive use, yet are still light enough to be comfortable inside the mouth.
Tooth sensitivity is a common concern among patients receiving dental implants. Since titanium has a low thermal conductivity rate, patients don't need to worry about additional pain or discomfort associated with cold and hot foods and liquids.
When installed, titanium implants will meld with the existing bone in the jaw. The implant will essentially become part of the bone through a process called osseointegration. This process helps keep the implant in place and eliminate some infection concerns over a period of time.
Cons
A titanium implant can fail if the patient has an allergic reaction to the metal components. Titanium implants are derived from 89% to 99% titanium but also include small amounts of various other metals.
The titanium alloys used in implants vary by manufacturer. Other metals in titanium dental implants include zinc, tungsten, nickel, tin, chromium, and vanadium. Often, titanium implants aren't labeled with each component due to minuscule amounts of added metals. Patients always need to be made aware of these components if they are at risk of allergies.
Patients with autoimmune conditions may find the ions released from titanium dental implants can cause inflammation and irritation of the gums. Any patients who have a history of metallurgic allergies should consider zirconia dental implants.
Another issue that can occur with titanium implants is the dark metal may show through thin gums. This can be aesthetically displeasing for patients. Zirconia implants cause fewer aesthetic issues compared to titanium.
Zirconia dental implants
Zirconia implants are a nonmetal alternative to traditional titanium dental implants. Zirconia is a ceramic-style material that is white in color and more natural in tone. When helping a patient choose between titanium and zirconia implants, it can be difficult to choose between the two.
Zirconia is emerging as an alternative to titanium and has shown superior soft-tissue response and more pleasing aesthetics when compared to titanium. Zirconia implants have many benefits, but there are also many concerns for patients when deciding on which material best suits their needs.
Pros
A key advantage of zirconia is the aesthetic of the material. For patients who don't want metal in their mouth and the chance of dark colors showing through the gums, zirconia is the perfect alternative. Zirconia has a toothlike color that blends in with the rest of the teeth and looks more natural than titanium. This is beneficial to the patient because where titanium comes with a risk of gum discoloration, this isn't the case for zirconia implants.
Zirconia implants are excellent at resisting corrosion. Along with corrosion resistance, zirconia accumulates less plaque than titanium implants. Less infections are also associated with zirconia dental implants.
Metal allergies are a concern for many patients. Metal-free zirconia implants have a much lower risk for allergic reactions than titanium. Therefore, they are safer for patients with metal allergies. Zirconia implants could be an option for patients with nickel sensitivity or those who want to go metal-free.
Cons
While zirconia implants have come a long way throughout the last 15 years, they have limited options and are less versatile than titanium implants. In comparison, titanium implants typically have a greater variety of components varying from size, purpose, angulation, and solutions for difficult treatments.
A common concern of zirconia implants is that they aren't as practical as titanium for complex oral rehabilitations. Zirconia implants are technique sensitive. The dentist needs to be trained and experienced with zirconia implants.
Compared to titanium, zirconia is more brittle and has a lower fracture strength. Zirconia is more likely to fracture under forces that can lead to bending or flexing. In the long-term, zirconia has a higher chance of fractures and complications.
Weighing your options
Titanium implants are still the standard for replacing teeth and have been updated through the years with new innovations. Titanium implants have success rates of 90% or greater. Not enough time has passed for substantial studies to prove the success rates of zirconia implants.
Helping your patients choose the right material for their dental implants is an important process. Discuss the different options with your patients to ensure they are receiving the care they need while understanding the advantages and disadvantages of each type of material.
Dr. Edward Harsini is the owner of Smile Dental Clinics in Phoenix. He graduated from the University of Missouri-Kansas City Dental School in 1998. He is a graduate of Georgia Regents University/the American Academy of Implant Dentistry's maxi course in implant dentistry. He has attended over 800 hours of continuing education courses on implant dentistry.
The comments and observations expressed herein do not necessarily reflect the opinions of DrBicuspid.com, nor should they be construed as an endorsement or admonishment of any particular idea, vendor, or organization.