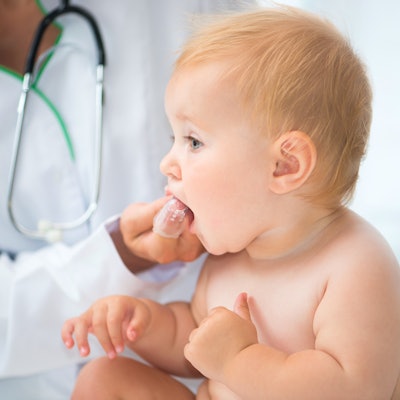 The U.S. National Institutes of Health awarded a $424,000 grant to researchers at Kennesaw State University in Georgia to assess and reduce barriers associated with pediatricians applying fluoride varnish to children's teeth.
Though insurance in every state in the U.S. will pay for pediatricians to apply fluoride varnish to children's teeth, very few do it due to concerns about time and cost-effectiveness, Christina Scherrer, PhD, the study's principal investigator and Kennesaw's department chair of industrial and systems engineering, said in a recent university press release.
"Children under the age of three, especially from low-income populations, may not visit a dentist," said Scherrer, who has worked with the U.S. Centers for Disease Control and Prevention on oral health research, said in the release. "However, most will visit their pediatrician annually for a well-visit, which makes it an ideal opportunity to receive fluoride varnish."
Despite recommendations from the U.S. Preventive Services Task Force that state primary care physicians should apply fluoride varnish to the primary teeth of infants and children at the age of tooth eruption to reduce tooth decay, only 4% of pediatricians report regularly applying it.
In the summer, the research team and several undergraduate students will make site visits at pediatric clinics in Georgia, where doctors will apply fluoride varnish to patients.
At the clinics, the team will videotape pediatricians engaging in the fluoride varnish application process. They aim to record and analyze more than 100 videos.
Also, the researchers will keep an accounting of how long each step takes, including preparation of supplies and paperwork processing. The study results will document best practices that will be shared with other pediatricians who are hesitant to implement fluoride varnish applications in their practices, according to the release.
Ultimately, the long-term goal is to improve access to and increase the use of fluoride varnish in nondental settings to reduce disparities in children's oral health, the researchers stated in the release.
"We know that it will have a positive impact on children's teeth if we can make it easier for more pediatricians to add fluoride varnish application to well-visits for young children," Scherrer said in the release.