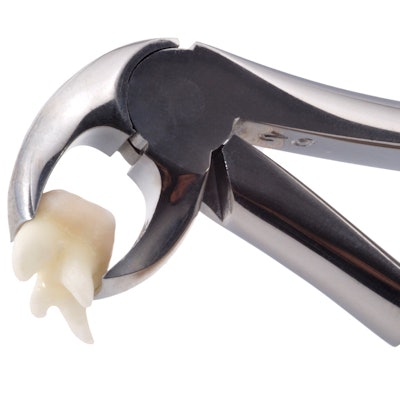 A boy in Virginia was 9 years and 327 days old when he had a wisdom tooth extracted, making him the youngest person in the world to undergo this procedure, according to a recent story in the Guinness World Records.
Ryan Scarpelli learned that he needed the extraction when Dr. Kelly Morgan, an orthodontist at Morgan Orthodontics in Lansdowne, VA, noticed on a dental x-ray that the child had a wisdom tooth and a molar growing on top of each other.
The boy was referred to Dr. Craig Vigilante, an oral surgeon at Potomac Surgical Arts in Virginia, who confirmed that the third molar had to be pulled to allow the other tooth to come in properly, according to the article.
After he underwent surgery successfully, his mother did some research knowing that age 9 seemed to be young for a third-molar extraction. When the tooth was removed, Scarpelli still hadn't lost every baby tooth.
Eventually, the mother's suspicions were confirmed. Scarpelli only beat the previous record-holder by less than two weeks. In 2002, Matthew Adams was 9 years and 339 days old when he had his wisdom tooth extracted and was named the world's youngest person to have the procedure, according to the Guinness World Records.
Over the years, several people have earned world records related to dentistry. In February 2020, a dentist in Georgia possessed 3,000 toothpaste tubes, setting a world record for the largest collection of the oral care product.