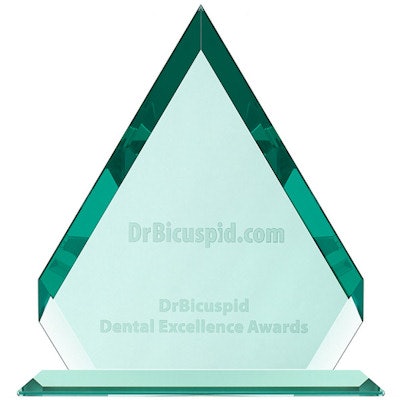 Who made it to the final round in this year's edition of the Cuspies? We are very excited to announce the people, products, and events that were selected as finalists in this year's event recognizing excellence in dentistry.
The finalists for the 2023 Cuspies awards embody the best and brightest in dentistry this past year. This year was particularly competitive. More than 3,000 people voted for their favorite candidates across 14 categories, and some finalists were decided by a few votes.
In the next and final round of voting, our expert panel will select 14 winners from the finalists below.
Dental Educator of the Year
Dr. Gordon J. Christensen, MSD, PhD
Dr. Gordon J. Christensen, MSD, PhD, is one of the most distinguished dentistry educators, having presented more than 45,000 hours of continuing education in his decades-long career. He is known for his well-attended lectures at conferences and dental industry events, as well as his highly regarded thought leadership articles in industry publications. He is an adjunct professor at the University of Utah School of Dentistry, founder and CEO of Practical Clinical Courses, CEO of Clinicians Report Foundation, and a practicing prosthodontist in Provo, UT.
Dr. Brittany Seymour, MPH
Dr. Brittany Seymour, MPH, is a pioneering educator in global oral health and a leading voice for digital public health communication. She is the global health discipline director at the Harvard School of Dental Medicine, where she is also an associate professor. The global oral health courses Seymour created at Harvard have been adopted by dental schools and organizations in 30 countries. Her work has included launching the first dental school in Rwanda and standardizing dental education in Vietnam.
Hygiene Educator of the Year
Amber Auger, MPH, RDH
Amber Auger, MPH, RDH, is a practicing dental hygienist, speaker, author, coach, and consultant. With more than 15 years of dental industry experience, she specializes in detecting and treating dental dysbiosis conditions and provides practical protocols for the implementation of technology, refocusing on the patient experience, and using systemic approaches to periodontal therapy. Auger has been a fan favorite in recent Cuspies. She reached the finalist round in the dental educator category in last year's awards and was a semifinalist in both the educator and influencer categories in this year's awards.
Jennifer Turner, RDH
Jennifer Turner, RDH, has worked with hundreds of dental practices across Canada, supporting teams with change management and the implementation of clinical systems to enhance and elevate patient care. She is the vice president of dental hygiene operations at 123Dentist and the past president and chief governance officer with the College of Dental Hygienists of Ontario. Turner is also a former director of dental hygiene practice with the Canadian Dental Hygienists Association and an award-winning dental hygiene professor.
Best Dentistry Training Program
Texas A&M University School of Dentistry
The Texas A&M School of Dentistry has been educating dentists with hands-on clinical training for more than 115 years. The school is the largest single oral healthcare provider in North Texas, with departments spanning biomedical sciences, comprehensive dentistry, and public health. Established in 1905 as State Dental College, the school has undergone several transformations over the years, including a recent name change. It is well-known for its facial injury care and houses the Center for Maxillofacial Prosthodontics, one of a few centers in the U.S. that focuses on reconstructing oral and facial appearance and function for patients without or with damaged ears, noses, or eyes.
Tufts University School of Dental Medicine
Established more than 150 years ago, the Tufts University School of Dental Medicine touts a long history of teaching dental care backed by scientific and medical principles. The school boasts more than a dozen teaching clinics, where students and residents apply their clinical and interpersonal skills to treat more than 30,000 patients per year, including more than 6,500 patients with disabilities. Its alumni include Dr. Esther Wilkins, and educational opportunities for Tufts students include two Doctor of Dental Medicine programs, postgraduate education, and a predental program.
Best Hygiene Training Program
Dental hygiene program at Collin College
The competitive Collin College Dental Hygiene Program prides itself on student-centered education, providing opportunities for students and faculty to collaborate so graduates are real-world ready. Students graduate with an Associate of Applied Science degree and have the opportunity to participate in a dual degree program with Texas Women's University. The school also offers clinical rotations at regional hospitals, assisted living centers, and the offices of oral surgeons and periodontists.
Caruth School of Dental Hygiene at the Texas A&M University School of Dentistry
The Caruth School of Dental Hygiene at the Texas A&M University School of Dentistry educates oral health professionals to provide education, clinical services, and therapeutic services that support overall health through oral health. Most of the school's education focuses on its signature Bachelor of Science in dental hygiene undergraduate program, but it also has a Master of Science degree in education for dental hygiene for hygienists who want to conduct research or teach.
Dentist Influencer of the Year
Dentists in the Know
"Dentists IN the Know" is a collaborative dental community that brings dental professionals in the know together every week. Best known for its weekly podcast, hosts Drs. Jeff Horowitz, Chad Duplantis, and Jennifer Bell discuss current events, new products and techniques, dental education, and organized dentistry in an unpretentious and welcoming format. The show has featured dozens of guests, including Dr. John Kois of the Kois Center, former DrBicuspid clinical editor Dr. David Rice, and 2023 Cuspies semifinalist Crystal Spring, RDH.
Dr. Mary Pham
Not only is Dr. Mary Pham a dentistry influencer, but she's also a pediatric dentist, entrepreneur, and CEO. Since founding Lollipop Pediatric Dentistry Orthodontics in 2012, Dr. Pham has grown the dental service organization (DSO) to five locations, serving patients throughout Orange County, CA. She also created the Women Dentists Entrepreneur Group and the associated Mastermind Group to bring together women to share best practices for their businesses. Dr. Pham has been recognized on the Forbes Next 1000 List, and her company accolades include the Inc. 5000 List, recognition in Parenting OC magazine, and Becker's DSOs to Watch.
Hygienist Influencer of the Year
Britt Glauz, RDH
Readers may better know Britt Glauz, RDA, by her social media handle @BrushwithBritt. Using her dental hygiene experience, Glauz advocates for hygienists and shares content that educates, empowers, and motivates her 47,000 TikTok followers and 27,000 Instagram followers. She also hosts the "BrushwithBritt" podcast, which provides knowledge, expertise, and advice for people on their journey to becoming hygienists and well-rounded healthcare providers.
Amber Lovatos, RDH
Amber Lovatos, RDH, is a clinician, educator, author, and podcaster, as well as the hygienist behind the popular Instagram handle @thelatinardh. Over the past year, Lovatos has used her Instagram profile to teach her 5,000+ followers basic dental Spanish. She also speaks to issues impacting the Latino dental community and Spanish-speaking patients. Outside of Instagram, Lovatos hosts the "Un Cuento De Dos Higienistas" podcast, a Spanish spin-off of "A Tale of Two Hygienists" podcast. She also edits Elseviers' dental Spanish translation book, supervises hygiene students who rotate at a nonprofit dental clinic, and educates dental professionals about mental health and identifying abuse.
Best New Imaging Product
Primescan Connect intraoral scanner, Dentsply Sirona
Launched at Dentsply Sirona World 2022, the Primescan Connect is Dentsply Sirona's mobile take on its high-performing, cart-based Primescan intraoral scanner. The Primescan Connect, which is specifically designed for laptops, offers dental professionals 3D scanning technology at a lower price and with a smaller footprint. It can be used in digital workflows for restorations, implants, orthodontics, and sleep appliances. The Primescan Connect is powered by Dentsply Sirona's cloud-based software DS Core and service program DS Core Care.
Trios 5 Wireless intraoral scanner, 3Shape
Last September, 3Shape rolled out the new version of its Trios 5 Wireless intraoral scanner that includes more than 50 changes to improve its ease of use, design, and infection control capabilities. Scanner features include a more compact build and thin single-use sleeves to cover the body and minimize the risk of cross-contamination. The scanner also comes with ScanAssist intelligent alignment technology, an LED light, and haptic feedback to guide dental professionals during the scanning process.
Best New Hygiene Product
Dental Pain Eraser, Young Innovations and Synapse Dental
The Dental Pain Eraser is an electronic dental anesthesia tool from Young Innovations and Synapse Dental. The pen-shaped device uses gentle, electric pulses to modulate nerve activity and prevent the transmission of pain signals. The companies claim it can prevent and relieve oral pain without the need for local anesthetic injections, gels, or drugs and can work for pain resulting from orthodontic procedures, dental work, canker sores, and tooth sensitivity.
Dragonfly powered loupe, Orascoptic
Orascoptic's Dragonfly powered loupe integrates the company's signature magnification with a built-in, battery-powered headlight. The headlight is designed to reduce pressure on the nose bridge. It also hides wires and cables by placing the headlight batteries and electronics within the frame.
Best New Restorative Product
Retraction Paste, Voco
Last March, Voco launched its new Retraction Paste with two-stage viscosity for impressions, temporary restorations, and permanent restorations. The astringent paste is blue to contrast with tooth structure and gingiva and features a custom-engineered capsule with a long, fine, flexible plastic tip rather than a traditional metal one. Each cap contains 0.3 grams of paste, which is about enough for three teeth, according to Voco.
UltraTemp Rez II temporary resin cement, Ultradent
Ultradent debuted its new UltraTemp Rez II temporary dental cement last April. Designed for temporaries, the cement was developed to last two to four weeks. It comes in a dual-barrel syringe with mixing tips for easy delivery for temporary crowns, bridges, inlays, onlays, and small restorations. The noneugenol formula is also radiopaque and fluoresces under a black light.
Best New Dental Software
AirPay, Smylen
Smylen's AirPay streamlines the dental office check-in and checkout process. The service automates insurance verification, calculates out-of-pocket costs for patients, and provides a digital payment solution for both practices and patients. In an era of staffing shortages, AirPay can help front office staff work more efficiently and reduce the number of hours involved in verifying, authorizing, and administering prepaid dental benefits.
Invisalign Virtual Care AI, Align Technology
Last September, Align Technology introduced Invisalign Virtual Care AI, The software streamlines workflows for dental teams by offering features for patient enrollment, setup, and reviews on the Invisalign Doctor Site. It also assists dentists by monitoring patients' treatment progress based on clinical settings and algorithms for automatic assessment.
Best New Consumer Product
iO10 smart toothbrush, Oral-B
At the 2022 Consumer Electronics Show, Oral-B added a new smart toothbrush to its iO product line. The iO10 with iOSense updates the company's premium rechargeable electric toothbrush with new oral health coaching features, including live coaching on brushing time, pressure, and coverage from the iOSense Charger. The charger then syncs with a phone for even more brushing habit insights.
Sonicare Cordless Power Flosser, Philips
Philips expanded its Sonicare Power Flosser lineup in July with the addition of the Sonicare Cordless Power Flosser. The water flosser features the company's signature Quad Stream technology, which uses a cross-shaped nozzle for additional coverage, as well as pulsations to prompt the user to move to the next interproximal space. The cordless flosser was developed for patients who need to establish a flossing habit and are looking to incorporate an interdental product into their routine.
Most Significant News Event in Dentistry
Burnout among dental professionals soars post-pandemic
One topic clearly on the minds of DrBicuspid readers is burnout. Readers may recall the harrowing mental health statistics listed in roughly one dozen articles on the topic in 2022. Most recently, a CareQuest Institute for Oral Health survey found 71% of oral health providers reported an increase in feelings of burnout since the start of the COVID-19 pandemic. More clinicians than ever before are also grappling with the with the effects of suicide and detailing how the COVID-19 pandemic's mental health aftershocks have been worse for dental professionals than the general population.
U.S. dentists continue to grow younger, more diverse
The U.S. dental workforce is changing and with it, the practice paradigm. Data repeatedly show that U.S. dentists continue to grow younger and more diverse in turn driving larger shifts away from practice ownership and solo practice. In response to the changes, the ADA is changing too. Past president Dr. Cesar Sabates prioritized efforts to support a more diverse and inclusive dental profession. One such initiative is a new network designed to equip leaders, volunteers, members, and dental society staff with resources to create a culture of inclusion.
Scientific Paper of the Year
Erosive effect of beverages on surface hardness and ultra-structure of deciduous teeth enamel. Pediatric Dental Journal, September 6, 2022. Learn more about this study.
To determine which types of sugary drinks are the most erosive to children's teeth, dental researchers soaked 52 baby teeth in flavored milk, orange juice, and Pepsi for four weeks. Researchers assessed the surface microhardness and surface topography of the extracted deciduous molars at weeks two and four. Likely unsurprising to dental professionals, Pepsi appeared particularly erosive, generating the worst erosion scores at week two and tying with orange juice for the worst scores at week four. Pepsi also produced the lowest pH values among the studied solutions.
US dental health care workers' mental health during the COVID-19 pandemic. Eldridge L et al, Journal of the American Dental Association and the Journal of Dental Hygiene, August 1, 2022. Learn more about this study.
This groundbreaking study was the first U.S. survey to analyze the long-term mental health of dental professionals during the COVID-19 pandemic, and the findings showed that dentists and hygienists frequently reported poor mental health during peaks of COVID-19 transmission. The one-year study included nearly 9,000 dental professionals who participated in web-based surveys from June 2020 to June 2021. While anxiety and depression rates peaked for hygienists and dentists in late 2020, hygienists had higher rates of mental health symptoms overall.
Hottest Dental Procedure
Clear aligners for airway improvements
At the same time that clear aligners continue to gain popularity at dental offices, a growing contingent of dentists are providing sleep-related services at their practices, including screening for sleep-disordered breathing and making oral appliances designed for patients with obstructive sleep apnea.
This burgeoning trend has led to the introduction of clear aligners specifically designed for use with airway management therapies and orthodontic interventions designed to correct orofacial features that contribute to sleep-disordered breathing. With more people talking about sleep dentistry and airway management, it's likely this dental trend will continue to stay hot for a while.
Robot-assisted dental surgery
While robot-assisted dental surgery is still in its infancy, investors and DrBicuspid voters clearly recognize the potential that AI-driven surgery holds for the profession. Many of the big players in the AI space made the Cuspies semifinalist list for the first time, and industry leaders dubbed 2023 as the year of artificial intelligence.
The growing investment in AI-backed products is reflected in big investments, like a $40 million funding round for Neocis, whose robot-assisted dental implant surgery device Yomi received U.S. Food and Drug Administration 510(k) clearance for a new bone reduction feature set to debut this year. Also, in May, three dental students using Yomi devices at the New York University College of Dentistry became the first to perform student-led, robot-assisted dental implant surgery.