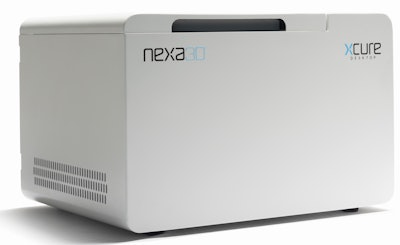 3D printer manufacturer Nexa3D announced the release of its xCURE Desktop System and a new dental resin.
The xCURE Desktop is an ultraviolet curing system that supports 365nm, 385nm, and 405nm wavelengths and aims to reduce post-processing time by as much as 80%.
The new biocompatible dental resin, Saremco Print CrownTec, is formulated for permanent dental restorations. It offers multiple shades for applications, including inlays, onlays, veneers, dentures, and temporary bridges but is most often used for temporary and permanent crowns.