BOSTON - In real estate, it's all about location, location, location. When it comes to crafting CAD/CAM restorations with Cerec, it's all about planning, planning, planning. That's especially true if you're taking your Cerec work to the next level -- namely, working with an entire quadrant, not just a single crown or inlay.
That's according to Richard Short, D.M.D. and Lisa Horne, CDA, who gave the equivalent of a two-day course in Cerec quadrant dentistry in the space of three hours. "The Future of Quadrant Dentistry Using Cerec" at the Yankee Dental show in Boston gave participants a blitzkrieg introduction (and hands-on practice) to quadrant dentistry using Cerec 3. Bottom line was showing users how to efficiently and predictably coordinate, manage, prepare, powder, scan, design, align, and insert multiple restorations in one sitting.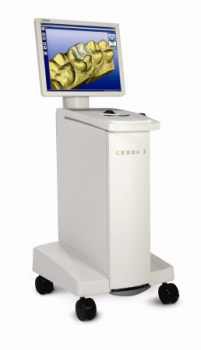 It's not just for single teeth any more. Cerec 3 can easily tackle quadrant dentistry.
A quick survey of the audience revealed that everyone had a Cerec system -- and that very few had done multiple restorations on a patient in a single session. "That's no surprise" says Dr. Short. "80 percent of the crowns fabricated by Cerec users are single crowns." But the rewards of quadrant dentistry -- in time saved by the patient and in your billings -- can be significant. If things go right (that means the Cerec software doesn't crash or you don't make a mistake and have to redo something), you can do three to four restorations (crowns, inlays, bridges) in two and a half hours. And hand the patient a bill for $4400.
The catch, of course, is coordinating multiple processes at once (for example, polishing and bonding one onlay while milling another), not pushing the Cerec system too hard (lest it crash), and avoiding operator errors.
"Be careful how you book these appointments," says Dr. Short. "Things can go wrong. For a two and a half hour procedure, we schedule three hours. For a crown, one to one and a half hours. And don't forget Murphy's Law! Always take an impression so you can create temps, just in case." Another bit of advice? Don't over engineer. A patient may want something far less than you're imagining.
The whole process, from seating the patient to milling and placing the restoration, is too complicated to relay here (and to a certain extent, even in a three hour session.) But when it comes to managing the process, Dr. Short and Lisa Horn have some telling advice.
For starters, know what the patient wants and doesn't want. Use an intraoral camera to show them the current state of things and give them any relevant patient education materials (such as materials from Caesy). Determine what shade pleases the patient. Make sure financial arrangements have been made, so you can get paid on the same day.
Next, lay out a schedule that maximizes your efficiency, that juggles one job with another (milling one crown while designing another, for example.) A sample schedule:
| | | |
| --- | --- | --- |
| PROCEDURE | TIME | ELAPSED TIME |
| | (minutes) | (minutes) |
| Seat patient, anesthetize and preparation (three-four teeth) | 60 | 0 |
| Powder and scan | 10 | 70 |
| Design 1st tooth (inlay) | 3 | 73 |
| Virtual seat and mill inlay | 12 | 85 |
| Design 2nd tooth (crown) while inlay is milling | 8 | 93 |
| Virtual seat the crown and mill the 2nd crown | 17 | 110 |
| Design the 3rd tooth (onlay) | 6 | 116 |
| Close 2nd window after crown finishes milling | 11 | 127 |
| Doctor polishes and bonds 1st inlay and 2nd crown with assistant | 15 | 142 |
| Virtual seat the 3rd onlay and mill onlay | 15 | 157 |
| Design the 4th tooth (inlay) | 6 | 163 |
| Doctor adjusts the bite of the cemented restorations | 9 | 172 |
| Mill the 4th inlay | 12 | 184 |
| Polish and bond 3rd onlay. Adjust occlusion and polish last inlay | 20 | 204 |
| | | |
| Total visit | | 3.4 hours |
Other tips:
Make sure that all the necessary supplies are on hand, from blocks to burrs. The less your assistant has to leave the operatory to get supplies, the faster the appointment will go.
Review diagnostic casts in occlusion to spot problems with cusp-fossa relationships.
Occlusion is key in any restoration, so pay attention to the horizontal and vertical relationships between the maxillary and mandibular teeth in question. Your first picture should be of the occlusal surface -- in case you want to change from database to replication.
The must haves? Intraoral camera, electric handpiece, Septocaine, 1.5mL prep check, rubber dam ("we use these for everything"), C-Stat scanner covers (distal and mesial), magnification, and air abrasion (for cleaning off the tooth).
Once these pieces are in place, you are ready to dig in --remove old restorations, clean up the area in question, check margins, take impressions, do test scans and working scans, adjust, redo what's necessary, and ultimately mill and place the restoration. These steps are largely the same, whether you're creating one restoration or four in one sitting. But to make quadrant restorations pay off, stick with Dr. Short's mantra of plan, plan, plan -- and then, plan some more.