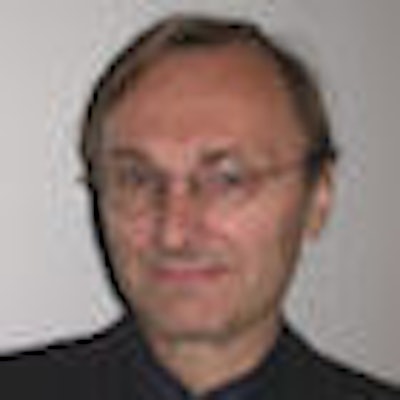 DrBicuspid.com is pleased to present the next installment of Leaders in Dentistry, a series of interviews with researchers, practitioners, and opinion leaders who are influencing the practice of dentistry.
We spoke with Allan Farman, BDS, MBA, PhD, DSc, a professor of radiology and imaging science at the University of Louisville in Kentucky, who recently stepped down as president of the American Academy of Oral and Maxillofacial Radiology (AAOMR) after a two-year term and will now serve as immediate past president for two years.
Dr. Farman is a diplomate of the American Board of Oral and Maxillofacial Radiology and a licensed specialist in that discipline. He founded and chairs the International Congress and Exposition on Computed Maxillofacial Imaging and was scientific editor for the American Academy of Oral and Maxillofacial Radiology from 1988 to 1995 and 2005 to 2009. He is widely published and lectures both nationally and internationally.
Dr. Farman discussed the AAOMR's many accomplishments during his presidency, the growing emphasis on "imaging gently," and the impact of technological advances on the practice of oral and maxillofacial radiology.
DrBicuspid.com: Is the role of the oral and maxillofacial radiologist changing?
Dr. Farman: Oral and maxillofacial radiology (OMR) was voted into specialty status by the ADA House of Delegates in 1999 and so is now just over a decade old as a recognized dental specialty in the U.S. There are approximately 200 OMRs in the U.S. today, but the number of specialty programs for this discipline in the U.S. and Canada is in the process of doubling over the next year or two. OMRs are fully trained in maxillofacial advanced imaging techniques and interpretations, including CT, MRI, ultrasonography, PET, and visible light (VL) applications, including endoscopy and optical coherence tomography.
Traditionally, the OMR has worked with its feet inside dentistry, often in academic centers, and also with hospital staff positions to increase access to more expensive enabling technologies. This paradigm has shifted somewhat with the advent of cone-beam CT, leading to an increased number of OMRs entering private practice by opening imaging centers or simply working online to provide reads for image volumes -- most of which come from dentists and dental specialists owning cone-beam CT systems.
What is having a greater impact on this field: new technologies, new clinical expectations, or political issues?
Without a doubt, diagnostic imaging in general is benefitting from rapid improvements in enabling technologies and the rapid decreases in costs of computer memory, data transfer, detectors, and software applications. Translating new technologies into better treatment outcomes will lag until the end users of the images know how to use the information effectively.
We are still awaiting studies that demonstrate high quality of evidence regarding the impact of diagnostic imaging on many procedures in dentistry. The use of imaging systems should always be based on professional judgment and routine use of ionizing radiation cannot be condoned. There have been some practitioners who have been perhaps too enamored by "pretty pictures" rather than diagnostic need. I am hopeful that guidelines soon to be released by the AAOMR will help alleviate this situation. This matter is most important when considering those most susceptible to ionizing radiation, namely children, where the byword is to child-size dose and "Image Gently."
What are some of the many achievements that occurred during your tenure as president of the AAOMR?
The two years of my presidency could be considered a "perfect storm" in terms of the number of report deadlines and management issues. These matters included the first 10-year self study and report to the ADA Council on Dental Education and Licensure and approval from the ADA House of Delegates (a process that initiated a complete revision of the AAOMR Bylaws and Membership categories, and a total update of the Strategic Plan), the four-year reaccreditation of the AAOMR as an ADA CERP provider, and the 10-year update of the ADA CODA standards for advanced programs in OMR. The first two of these were concluded most satisfactorily; however, I was unhappy that the Commission on Dental Accreditation (CODA) standards draft revisions I received would see the specialty through the upcoming decade and requested a deferral until later this year so that this matter could be dealt with by my successor as president, Dr. Alan Lurie, and the team he assigned for the task. I actually view that deferral as among the greatest successes during my presidency.
Other activities initiated during my presidency included a new webpage for which I especially want to thank Dr. Dania Tamimi. Dr. Tamimi also revised the online newsletter and developed a monthly electronic digest. In addition, the AAOMR ceased to be the only all-volunteer organization sponsoring a dental specialty and took on professional management.
The AAOMR had not published a position paper for a dozen years, and I set about recruiting a position paper editor and setting into motion updates of position papers on implant and temporomandibular joint imaging and having new position papers developed for cone-beam CT. For the first time AAOMR collaborated with other specialty organizations, including the American Association of Endodontists for a pubished position paper on cone-beam CT use in endodontics, and the American Association of Orthodontists for a position paper on cone-beam CT use in orthodontics [soon to be published]. There is also a plan to work with the American Academy of Periodontology to develop a position paper on digital imaging for periodontology. And the AAOMR is also collaborating with the American Thyroid Association to provide guidance on minimizing risk to the thyroid gland during dental radiographic procedures.
The AAOMR worked closely with the ADA to develop educational training courses on cone-beam CT that were initiated in Las Vegas at the Annual Session. Similar courses are in process of being discussed for inclusion in the ADA Annual Session this year in San Francisco.
The AAOMR worked closely with ADA Council on Scientific Affairs on issues related to cone-beam and provided the speakers for a special session on this topic at the ADA Annual Session in 2010. The AAOMR also worked with the ADA Standards Committee on Dental Informatics to help edit technical reports on digital image transfer and e-mail data transfer. The AAOMR is represented on the ADA Codes Advisory Committee and has made suggestions to substantially update the CDT codes for diagnostic imaging in dentistry. These suggestions are presently under consideration by the ADA Council on Dental Benefits.
During the past two years, the AAOMR has maintained its position as a sponsor of the National Council on Radiation Protection and Measurements, has become the only dental organization to have membership in the Image Gently Alliance (with guidelines for dental radiographic procedures for pediatric patients provided for the Image Gently website), and has become a voting member of the international DICOM Standards Committee.
Among all of these achievements, does any one stand out?
I am most proud of the public stance taken regarding the need for professional judgment in selecting radiographic procedures dependent on the individualized needs of the patient. Use of ionizing radiation should never be "routine." This is encapsulated by joining Image Gently, working on thyroid dose reductions with the American Thyroid Association, and in the development of position papers regarding use guidelines for cone-beam CT. Taking such a stance was not universally well-received, especially by some of the manufacturers and distributors of x-ray equipment. I am also proud of the development of training courses in cone-beam CT that provide information on safe and effective use of this modality without commercial bias.
What is next on your agenda?
For the AAOMR, I still have two years on the Executive Council as past president, and in this role will Chair the Nominations Committee. I also Chair the AAOMR Codes and Standards Committee and act as the AAOMR representative to the ADA Codes Advisory Committee and also as voting representative to the DICOM Standards Committee.
Outside the AAOMR, I continue as founding Chair of DICOM WG 22 (dentistry) for which there is a number of approved work items for new DICOM Supplements in process. I also continue as founder and organizer of the annual international congress and exposition on Computed Maxillofacial Imaging that has its 18th successive meeting in conjunction with the Computer Assisted Radiology and Surgery Congress in Pisa, Italy, in June this year.
Despite the apparent economic woes of the world that seemingly have baby boomers, such as myself vowing to work forever, I am planning for a more traditional retirement in a few years followed by limited self-employment combined with wider interests in photography, the arts, nature walks, and bicycle rides. The great advantage of the OMR specialty is that it provides the opportunity to work anywhere there is a secure broadband connection to the Internet. It also provides broad opportunities to consult. My wife and I expect that "retirement" will be divided equally between the U.S. and Japan.
A number of new technologies are coming into play in the education of oral and maxillofacial radiologists, such as online training tools and mobile apps -- what is your opinion of these advances?
I am all in favor of these technologies, as I likely will be taking advantage of these to hone my own skills and keep up to date when I eventually "retire" and move to a life of self-employment. While one needs a fairly large, high-resolution screen to read image volumes, small devices can now be linked to large, high-resolution screens, which might well be televisions. For the image sizes I read, I would not be happy with the screen size of an iPhone or tablet computer; however, that can well be the vehicle for data exchange.