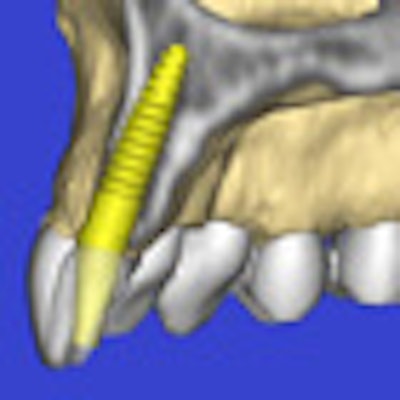 Cross-sectional imaging -- notably cone-beam CT -- is the preferred method for presurgical assessment of dental implant sites, according to a new position statement issued by the American Academy of Oral and Maxillofacial Radiology (AAOMR; Oral Surgery, Oral Medicine, Oral Pathology, Oral Radiology, June 2012, Vol. 113:6, pp. 817-826).
The first update of the AAOMR's guidelines for imaging in implant treatment planning since 2000, the position statement was developed to provide up-to-date radiographic selection criteria and covers all current planar modalities, including intraoral, panoramic, cephalometric, and cone-beam CT.
"There is enough evidence to say that any implant would benefit from cross-sectional imaging."
— Donald Tyndall, DDS, MSPH, PhD,
University of North Carolina
Given the increasing adoption of cone-beam CT for dental implant planning over the last decade, the guidelines put particular emphasis on this modality, according to Donald Tyndall, DDS, MSPH, PhD, of the University of North Carolina at Chapel Hill School of Dentistry.
"Back in 2000, there was not a lot of literature on the benefits of cross-sectional imaging, but there's been a lot since then," Dr. Tyndall told DrBicuspid.com. "What we were able to do in our review is to show that there is enough evidence to say that any implant would benefit from cross-sectional imaging. Not that you must have it, but that it is beneficial."
Dr. Tyndall and colleagues from an AAOMR position paper subcommittee conducted a literature review dating back to 2000 to provide research-based, consensus-derived clinical guidance for practitioners on the appropriate use of these imaging modalities for implant treatment planning.
"The recommendations presented are not prescriptive but rather advisory and are intended to provide the dental profession with current considered opinions on the appropriate imaging for implant dentistry," they wrote. "The underlining goal is to maximize diagnostic efficiency while minimizing patient radiation risk."
Pre-op planning
Over the past decade, there has been a "dramatic shift" in dental implant therapy from a surgically driven to a prosthetically driven approach, according to the AAOMR statement authors.
"It is no longer acceptable practice to place implants in alveolar bone without a previously developed plan for prosthetic restoration," Dr. Tyndall and his colleagues wrote. This means clinicians need full knowledge of oral-bone anatomy so that any correction can be made before implant placement.
The basic principles of radiology apply to imaging for implant evaluation, they noted:
Images should have appropriate diagnostic quality and not contain artifacts that compromise anatomic structure assessments.
Images should extend beyond the immediate area of interest to include areas that could be affected by implant placements.
Practitioners should have appropriate training in operating radiographic equipment and competence in interpreting images from the modality used; such training should include a thorough review of normal maxillofacial anatomy, common anatomic variants, and imaging signs of diseases and abnormalities, particularly for CT and cone-beam CT.
For the initial evaluation of a dental implant patient, the AAOMR recommends using panoramic radiography, followed by intraoral periapicals to gain supplemental information. The academy discourages the use of cross-sectional imaging -- including cone-beam CT --for initial examinations.
However, the AAOMR recommends that the radiographic exam of any potential implant site include cross-sectional imaging orthogonal to the site of interest, and that cone-beam CT be considered the imaging modality of choice for preoperative cross-sectional imaging of potential implant sites.
The AAOMR also recommends cone-beam CT when clinical conditions indicate a need for augmentation procedures or site development before placing dental implants, and if bone reconstruction and augmentation procedures have been performed prior to implant placement.
"As with any type of imaging, a patient should be exposed to the least amount of ionizing radiation that is needed to produce cone-beam CT images of acceptable diagnostic quality," the statement authors wrote. "This is achieved by careful selection of exposure parameters."
Post-op assessment
For postoperative implant assessment, intraoral periapicals are recommended in the absence of clinical signs or symptoms. Cross-sectional imaging -- particularly cone-beam CT -- should only be used immediately postoperatively if the patient presents with implant mobility or altered sensation, according to the AAOMR.
Cross-sectional imaging -- again, optimally cone-beam CT -- should also be considered if implant retrieval is anticipated. However, cone-beam CT should not be used for periodic review of clinically asymptomatic implants. Instead, periapical -- and, in some cases, panoramic -- images are adequate for postoperative implant monitoring, according to the AAOMR.
While more research is needed -- particularly a higher-order study that focuses on how cross-sectional imaging affects implant treatment outcomes -- "the literature appears to support that cross-sectional imaging, best achieved with cone-beam CT, is beneficial, and that is why we are recommending it for any implant site," Dr. Tyndall said.
Allan Farman, BDS, MBA, PhD, DSc, a professor of radiology and imaging science at the University of Louisville in Kentucky and immediate past president of the AAOMR, applauded the new selection criteria but cautioned against the use of panoramic or intraoral dental radiographs in initial treatment planning stages.
"I believe the correct approach is clinical inspection followed immediately by 3D imaging of the area of concern, including adjacent structures that might be involved in the treatment, such as the maxillary sinus where a sinus lift is to be performed," he told DrBicuspid.com. "I see no advantage in adding the extra dose from 2D images rather than going straight to cone-beam CT."