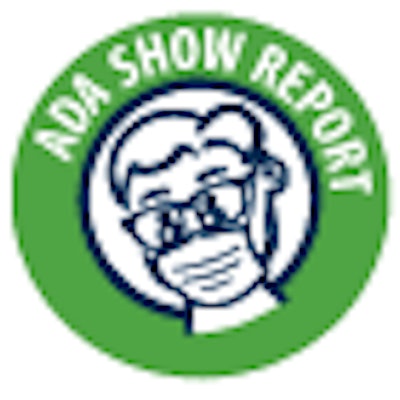 SAN FRANCISCO - The 3M ESPE booth at the ADA Annual Session and World Marketplace was abuzz today after the company announced the first mill partner and channel distribution partner for its new True Definition digital impression system.
The E4D Design Center and E4D Mill from D4D Technologies is the first chairside connection for the True Definition, and Henry Schein is the first channel distribution partner for the new product. Henry Schein will sell, install, and support the device, and True Definition Scanner customers will have the option to mill in the office for same-day restorations through a reliable connection that has been clinically tested by 3M and D4D.
The news follows quickly on the heels of 3M ESPE's introduction of the True Definition scanner and system earlier this week. The new scanner, which sells for $11,995, is an upgrade of the company's C.O.S. scanner, which was first introduced in 2008. 3M has discontinued manufacture and sales of the C.O.S. but will continue to provide support to existing customers. The company is also offering an upgrade program to the True Definition scanner for existing C.O.S. users.
The scanner, which utilizes a powder process to enhance resolution, features "3D-in-motion" video technology designed to allow users to capture and simultaneously view a true replica of the oral anatomy, according to 3M.
"The handpiece is smaller and lighter than the C.O.S. wand," according to a company spokesperson. "It's the smallest scanner on the market now."
Other advantages include a design that eliminates the need for calibration; an interactive, multitouch monitor; and open connections with third-party systems through the cloud-based 3M Connection Center and support for the STL image file format.
"We believe dentists want choice and flexibility, and that many of our customers will want the option to design and fabricate metal-free restorations chairside in the office," said Mark Farmer, president of 3M ESPE.
As a standalone system without the chairside milling package, files created by the 3M True Definition scanner may also be sent directly to a dental laboratory of the user's choice.
Donald Erickson, DDS, a general dentist who practices in St. Paul, MN, has been one of the scanner's early testers. He is also providing demonstrations of the product during the ADA meeting at the 3M ESPE booth.
"How does this product compare to the C.O.S.?" he said. "It is more userfriendly and flexible, has better scanning speed because it is easy to use, requires almost no training, and features simplified optics that are not prone to fogging."