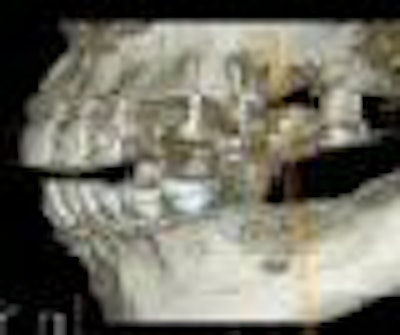 Ronald Shelley, D.M.D., has been using an i-CAT cone-beam computed tomography (CBCT) scanner for a little more a year. Three dentists share the machine in an office in Glendale, Ariz., which makes it more likely the CBCT system will be used several times a day. Yet, the practice doesn't create enough income from scans to cover the lease on the scanner. "It's not paying for itself yet, but we see it as an investment allowing us to do a lot more things than we could before."
As you learned in part I of this two-part series, cone-beam CT technology can see into your patients' heads with amazing accuracy. That article explains in detail what kind of procedures benefit from the information provided by the new scanners. For some dentists, the scanners can become a new source of income.
But the decision to buy requires a careful analysis of the economics. Not only does your pocketbook take a hit of up to $250,000 but, depending on the distributor, you might need to pay an annual maintenance fee. And there are other "hidden" fees besides. It pays, literally, to choose the right machine for your needs so you can fit CBCT into your practice's existing workflow. In this article, you'll learn about the primary features to look for as well some hidden costs you might not discover until you have actually started using your new CBCT system.
Can you afford cone-beam CT?
Cone-beam CT scanners, which provide 3D images that can be "spun" on a computer screen, are finding their way into the offices of implantologists, as well as orthodontists, endodontists, and other specialists. But such devices are like the premium versions of souped-up sports cars: Can you really afford all the bells and whistles when all you want to do is move fast?
Most people lease their CBCT systems and pay a monthly installment fee. The key to making that monthly mortgage is volume. "If you are placing a thousand implants a year and you image half of those patients with the CBCT, and they are paying $200 or $300 for a scan, the machine will pay for itself," says Edwin Parks, D.M.D., M.S., director of dental radiology at the Indiana University School of Dentistry in Indianapolis.
The need for volume to make CBCT systems pay for themselves has naturally led specialists such as implantologists to adopt them early on. But another consideration is the accuracy of the information you receive from them.
"I don't think you should look at it solely in terms of volume," says Scott Ganz, D.M.D., a prosthodontist in Fort Lee, N.J. "I look at it in terms of the information you will use. This technology is the best communication tool you have between the surgeon, the lab, the dental implant company, the patient, and you."
Another way of making CBCT pay is to rent out your machine to dentists in your area. But don't expect instant success. One problem is that dentists may hesitate to refer patients to you for fear they will never return. "We do reach out to the community of dentists around us and invite them to use us for radiology," Dr. Shelley says. "We have been moderately successful, but it's a new concept, and while we have had several referrals, it's not what we would like."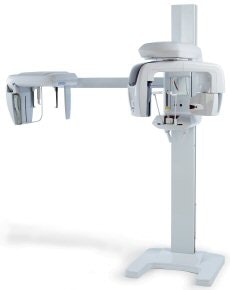 Other factors beyond the purchase price can influence what you actually pay for your CBCT scanner:
Hardware: You might need to upgrade your existing computer systems to handle the data produced by the CBCT. You might even need to brush up your basic computer skills to manipulate those cool 3D images.

Add-on software: Various applications are available for the CBCT to streamline specific functions, such as SimPlant by Materialise Dental that helps dentists plan implants.

Annual maintenance fees: Some manufacturers and distributors charge yearly fees for ongoing service of their CBCT systems. Most CBCT scanners need frequent calibration. Fees range from $3,000 to $20,000 a year.
So, it's important to know exactly why you need cone-beam CT and how much you expect to use it. For many dentists, the payoff will never come. "Most of these companies are trying to sell these units to general dentists who don't really need them," says Dr. Parks.
Key criteria
Let's say you've run the numbers, though, and figured out that your practice truly needs this type of imaging. Which machine should you buy?
Before settling on the i-CAT, by Imaging Sciences International/Danaher of Washington, D.C., Dr. Shelley consulted with other professionals. "At the time we decided to proceed with cone beam, I went around to dental meetings, listened to all the things people had to say, talked to oral-maxillofacial radiologists, and picked their brains. They told me the i-CAT was a good option."
Quality and dependability are important considerations but hard to evaluate because CBCT systems themselves are relatively new. Of the NewTom VG by AFP Imaging of Elmsford, N.Y., that Dr. Ganz is using now, he says, "No one knows what the life span is because they have only been around for 10 to 12 years."
The basic features you need to consider when choosing a CBCT scanner include:
Image clarity: What 3D images gain in perspective, they often sacrifice in clarity. 3D images tend to be grainy and have a granular quality. Look for models with the smallest voxel sizes: As voxel sizes decrease, the clarity of the image increases correspondingly.

Field-of-view: This refers to the size of the image displayed by the scanner. Having a range of options is more important than the biggest possible field-of-view. The larger an area you scan, the higher the radiation dosage to which you expose the patient. A larger field-of-view can mean less clarity as well, says Steve White of J. Morita of Irvine, Calif. "If a clinician is only doing one or two implants," says Dr. Ganz, "he or she may not need a large machine that has a large field-of-view."

Radiation dosage: How much dosage are you giving someone in order to get what you are giving?

Panoramic views: A new set of CBCT scanners combine panoramic views with 3D scans with a limited field-of-view. You can get one of these for $100,000 from Kodak Dental Imaging of Rochester, N.Y., or E-Woo & Vatech. J. Morita is seeking FDA approval for a similar product.

Also some panoramic machines can now produce limited three-dimensional images.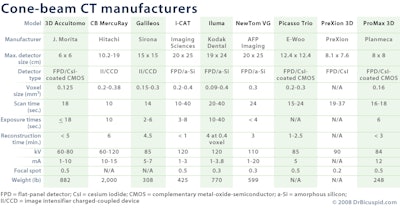 Getting your CBCT learner's permit
All the bells and whistles in the world don't matter if the person operating the CBCT scanner doesn't know how to operate it. "What is behind the machine counts," Dr. Ganz comments. It's important to find a company, either a manufacturer or distributor, that will stand behind its CBCT system and provide ongoing service and training, says Dr. Ganz. "Unfortunately, the training most people get is inadequate. They need additional support." He himself teaches two-day seminars on how to read the images produced by the CBCT scanner, but these aren't enough either, he says. Being able to properly interpret images may require time at a dental school training center.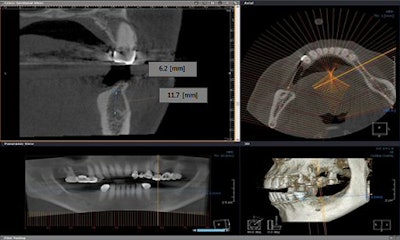 If you aren't qualified to read the CBCT output, you can send it to an imaging center. (Dr. Parks recommends DDI Imaging Center, which has offices in California and Colorado.) Rather than purchase your own CBCT scanner, of course, you can lease time on someone else's system. If the scanner is located close to you and your patients, so much the better. The downsides, of course, are that you have to wait for the scans, and that you make your patients do the traveling. You also have to wait to receive the radiologist's interpretation. On the other hand, you don't have to absorb the cost of purchasing a CBCT scanner yourself.
Dr. Shelley's office outsources to a radiology lab in his neighborhood. "The cone-beam printouts do show a lot more structures and anatomy, and we feel that is a service we owe to the patients," says Dr. Shelley. "It's all done over the Internet. We use FTP (File Transfer Protocol) and upload the files to the radiologist."
Once you have a CBCT scanner, you can use it to produce more revenue by providing your own imaging services for other dentists. You may need to purchase high-quality printers if you're going to provide them with printed output. And whether you do printouts or not, you'll need to set up an FTP server so they can send files to you electronically.
Once you have a CBCT system, you have a tool that can give you more accurate diagnostic and treatment planning information and also an asset you can use to build your practice. Having CBCT scanner in your office is something you can mention on your Web page and your advertisements. "It's a tremendous marketing tool for your audience," says Dr. Ganz.