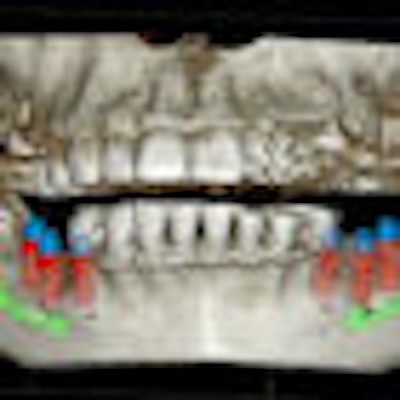 Dentists need to rely on their experience and clinical judgment to correctly use cone-beam CT (CBCT) for pre- and postimplant assessment, according to a review in the current Dental Clinics of North America (January 2011, Vol. 55:1, pp. 141-158).
Various imaging modalities are available for implant assessment, including intraoral radiography, panoramic radiography, CT, and cone-beam CT, noted lead author Christos Angelopoulos, DDS, MS, director of the division of oral and maxillofacial radiography at the Columbia University College of Dental Medicine. However, specific criteria for implant-sites assessment have not yet been developed.
"As a result, the proper image, as well as image technology, to be selected for the specific diagnostic task are dependent upon the knowledge and experience of the clinician," he wrote. "Strict adherence to existing standards and guidelines, sound knowledge of the applications and limitations of this technology, and proper patient precautions are all strongly recommended."
Using this approach, dentists can successfully harness the many benefits of using CBCT, including significantly increasing their ability to predict treatment results, and a concomitant significant reduction in operative time, morbidity, and complications, according to Dr. Angelopoulos. However, selection of the specific imaging technique should be based on its suitability for providing the diagnostic information required by the implant team at different stages of treatment, he noted.
"The article relates to a very hot topic these days, which is the use and 'abuse' of cone-beam CT by dentists," confirmed Juan Yepes, DDS, MD, MPH, doctor of public health graduate student at the University of Kentucky College of Public Health. "The article describes in a very appropriate way the clear indications of the use of 3D imaging for the implant-planning process."
Pre- and postoperative uses
Cone-beam CT contributes to this type of evaluation in a number of ways, noted Dr. Angelopoulos. However, despite the power of this technology, its proper use relies on expertise and judgment at every step of the way. Some examples include:
Selection of appropriate cone-beam CT reconstructions
Use of interactive software applications to estimate the alveolar bone height, width, and angulation, which assists in the selection of the appropriate type and size of implant and the best insertion path
Relative evaluation of bone density (however, density estimates provided by various cone-beam CT systems demonstrate a great deal of variation and inconsistency even within the same system, noted Dr. Angelopoulos)
Use of third-party software to simulate placement of the implant and prostheses
In addition, while high-quality assessment of the dental implant/alveolar bone interface is possible with cone-beam CT, "certain artifacts such as metallic and beam hardening are inherent to CT, and may obscure detailed images of the dental implant/bone interface, or may result in ghostlike radiolucencies around the dental implant and other high-density structures that may imitate peri-implant pathology," he emphasized in an e-mail to DrBicuspid.com.
"Periapical radiographs made with the paralleling technique are the images of choice in routine dental implant follow-up," he noted. "Cone-beam CT may be employed in cases of postoperative complications and/or inflammation to assess the extent of the problem."
Overall, though, there is no doubt that cone-beam CT represents a significant leap in implant imaging technology, Dr. Angelopoulos concluded.
"Traditional dental imaging will continue to play a vital role in routine postoperative dental implant evaluation, but the limitations of these techniques will steer the clinician toward more advanced imaging methods," he noted.
Copyright © 2011 DrBicuspid.com