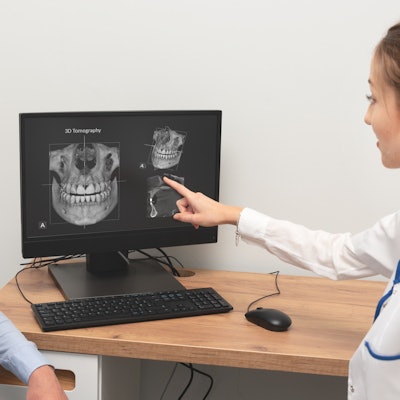 Reviewing cone-beam computed tomography (CBCT) scans may influence how endodontists approach treatment decisions in dental trauma cases, according to a study published on January 6 in the Journal of Endodontics.
Endodontists are more likely to propose starting traditional endodontic treatment for dental trauma patients after reviewing CBCT scans as opposed to periapical radiographs, the authors wrote.
"Endodontists tend to be more interventional with CBCT compared to PR [periapical radiography]," wrote the group, led by Dr. Luciana Batista Luz, PhD, from the Federal University of Rio Grande do Sul in Brazil.
In dental trauma cases, imaging is necessary for patient diagnosis, treatment planning, and follow-up, the authors wrote. Though periapical x-rays are the type of imaging most used in dental offices, they have limitations. Unlike CBCT, x-rays offer only a 2D view of 3D structures. CBCT scans can help better identify fractures; however, they are susceptible to artifacts from metallic posts or filling materials.
Opinions differ as to which type of imaging is best for evaluating dental trauma patients. The American Association of Endodontics and the American Academy of Oral and Maxillofacial Radiology suggest limited field-of-view CBCT as the method of choice for diagnosing and treating dental trauma patients. However, the recommendation is based on one scientific article that states more research is needed, the authors wrote.
On the other hand, the International Association of Dental Traumatology (IADT) recommends that periapical radiography be used in dental trauma patients. However, the IADT also recognizes that CBCT scans better visualize dental trauma injuries and can be beneficial if they are available. Finally, the European Society of Endodontology (ESE) concluded that CBCT should be reserved for cases when periapical x-rays fail to provide enough information, Luz and colleagues wrote.
The goal of the current study was to identify whether CBCT scans affect how endodontists handle dental trauma cases. First, 12 endodontists reviewed 15 dental trauma cases with periapical x-rays and clinical histories. The clinicians then answered questions about diagnosis, treatment options, and their confidence about both. A month later, the same endodontists evaluated the same cases with CBCT scans and responded to similar questions.
Approximately 84% of the endodontists said they would start patients on traditional endodontic treatment after reviewing CBCT scans. In comparison, 45% of endodontists suggested the same after evaluating x-rays.
A limitation of the study was that CBCT images are usually accompanied by a radiologist's report, which may affect diagnostic thinking and treatment plans, the authors noted. Endodontists were not provided with radiologist reports. Some professional organizations, including the ESE, recommend having a maxillofacial radiologist review the case with the images if the endodontist is in doubt of the findings, they wrote.
More studies should be performed to assess how CBCT scans affect planning and intervention in dental trauma cases, Luz and colleagues added.
"Considering the information provided by different imaging modalities, the present study suggests that CBCT influences and alters endodontists' diagnostic thinking in dental trauma cases," they concluded.