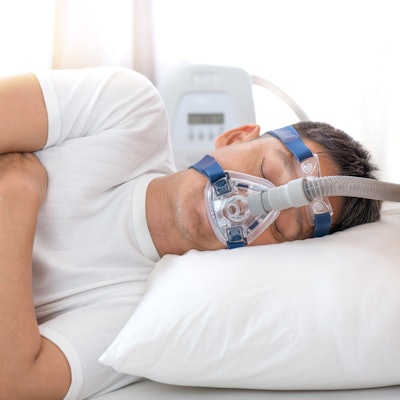 Obstructive sleep apnea (OSA) may be associated with low bone mineral density in adults, a finding that could have implications for orthodontic treatment, according to research published recently in the Journal of Craniomandibular and Sleep Practice.
Researchers, led by Dr. Thikriat Al-Jewair of the University of Buffalo School of Dental Medicine, used cone-beam computed tomography (CBCT) to measure bone density in the head and neck of 38 adult participants, half of whom had OSA. After the researchers controlled for variables such as age, sex, and weight, they found that those with OSA had significantly lower bone mineral density than those without the condition (Cranio, November 11, 2022).
As a result, a diagnosis of sleep apnea can influence treatment planning and management; low bone mineral density can cause teeth to become loose and dental implants to fail, according to Al-Jewair. And with CBCT increasingly becoming an integral part of daily orthodontic practice, the imaging modality could be used as a screening tool for low bone mineral density, she said.
"Orthodontists could then inform their patients of their propensity for low bone mineral density and encourage them to seek further consultation with their physician, as well as warn the patient of possible adverse outcomes, increased risks and effects on treatment time," Al-Jewair said in a statement.
The study results need to be confirmed in research involving larger sample sizes, she noted.