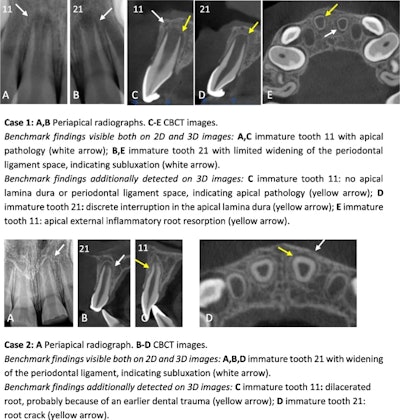 Image courtesy of Van Gorp et al. Licensed by CC BY 4.0.
Pediatric dentists performed poorly in diagnosing various types of dental trauma from cone-beam tomography (CBCT) images and intraoral x-rays, according to a pilot study published on May 10 in BMC Oral Health.
The findings suggest that pediatric dentists need enhanced training in imaging diagnosis, the authors wrote.
"Overall, diagnostic performance was rather poor using either imaging technique," wrote the authors, led by Dr. Gertrude Van Gorp of the KU Leuven Department of Oral Health Sciences and Department of Dentistry at University Hospitals Leuven in Belgium.
Dental trauma affects about 20% of children and often presents challenges to clinicians. Positive patient outcomes rely on an accurate diagnosis, which includes dental x-rays and, sometimes, CBCT scans. Therefore, it's critical that pediatric dentists have the skills to diagnose different dental problems from imaging.
The objective of the study was to measure the diagnostic accuracy of pediatric dentists identifying different pathologies occurring as a result of dental trauma on CBCT scans without having specific CBCT training and compare their accuracy with their performance analyzing x-ray images. Nine pediatric dentists observed both CBCT and radiograph images.
The nine clinicians were presented with intraoral and CBCT images of 89 teeth taken from 20 patients with dental trauma. Their diagnoses were compared with a benchmark reference, and sensitivity and specificity levels were measured, according to the study.
Generally, the pediatric dentists' sensitivity scores ranged from 36% to 68% when analyzing x-rays, and it was between 30% and 51% when interpreting CBCT images. Differences in performance reached statistical significance favoring x-ray imaging (p = 0.017), the authors wrote.
Whether the clinicians were viewing CBCT or x-ray images, the sensitivity for diagnosing apical pathology and root fractures was high, while it wasn't with diagnosing inflammatory root resorption, root cracks, and subluxations. Between both imaging modalities, statistically significant differences were seen for root fractures (p = 0.013) and apical pathology (p = 0.001) when using 3D imaging, while the sensitivity for diagnosing crown fractures was higher using x-ray images (p = 0.009), they wrote.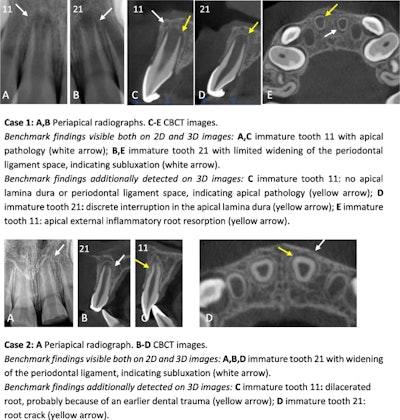 The study had multiple limitations. Since the information and intraoral x-rays were presented in a PowerPoint presentation, the examiners couldn't manipulate the intraoral x-rays or consider an exam of the patient, the authors wrote.
Based on this study, more research involving more pediatric dentist observers with different experience and training should be conducted in the future. In cases involving complex traumatic dental injuries, dentists should consider referring the patient to a professional who has advanced training in radiographic diagnosis, they wrote.
"Overall, poor performance of paediatric dentists indicates that additional training in radiographic diagnosis is required," Van Gorp and colleagues concluded.