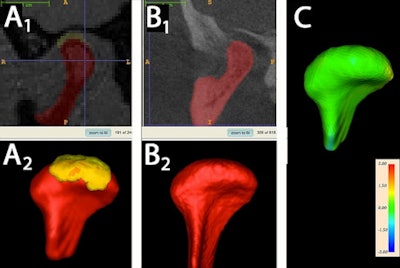 BOSTON - In a March 13 oral session at the International Association for Dental Research (IADR) 2015 General Session, researchers discussed how 3D models of condyles built from MRI scans yielded similar volume and shape as models built from conebeam CT (CBCT) scans.
Researchers from the departments of orthodontics at the University of North Carolina and the University of Michigan obtained a total of 10 condyles using both CBCT and MRI studies. The MRI data came from T2-weighted scans taken at a resolution of 0.6 x 0.6 x 0.6 mm. The CBCT scans were taken at a resolution of 0.5 x 0.5 x 0.5 mm.
Two independent examiners built 3D models of the condyles from the MRI and CBCT scans. The models from the scans were superimposed, and the researchers then measured differences in volume and shape.
They found that the models built from CBCT and MRI had similar volume (± 4.3 mm3) and shape (mean surface error between models: ± 0.52 mm). The medial pole and posterior surface of the condylar head showed the greatest error (mean ± 1.5 mm).