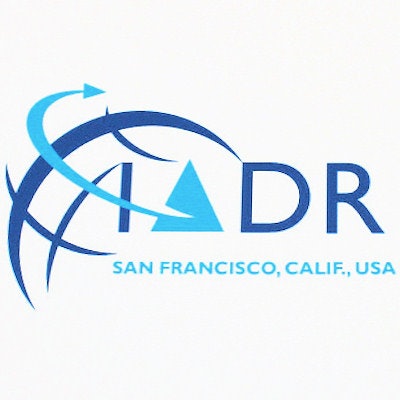 Could measuring certain facial and neck dimensions predict which patients are at increased risk of obstructive sleep apnea (OSA)? One researcher is exploring a possible connection in adults and presented her findings at the recent International Association for Dental Research (IADR) annual meeting in San Francisco.
Bahn Agha, PhD, MSc, an orthodontist and clinical postgraduate researcher at Queen Mary University of London, conducted a systematic review and meta-analysis on the relationship between facial and neck dimensions and the presence of obstructive sleep apnea. She found that adults with obstructive sleep apnea hypopnea syndrome (OSAHS) tended to share some distinct features, such as significantly increased neck circumference, but more research is warranted in this area.
"The key finding of my systematic review [was that] surface facial morphology could have a potential role in the identification of OSA, particularly the morphology of the mandible," Dr. Agha told DrBicuspid.com.
Improved OSA prediction
Obstructive sleep apnea is characterized by the repeated collapse of the upper airway during a patient's sleep. The consequences of not treating sleep apnea include daytime sleepiness, increased cardiovascular morbidity and mortality, cognitive function deterioration, motor vehicle accidents, and reduced quality of life.
Researchers have previously attempted to predict the presence of OSAHS through questionnaires and facial measurements, Dr. Agha noted in an article published on her research (Journal of Sleep Research, April 2017, Vol. 26:2, pp. 122-131). However, the results have emphasized the need for improved prediction.
She conducted the current study because there was no previously published systematic review of surface facial assessment studies in individuals with OSAHS. She also sought to identify study limitations and explore where more research is needed.
Dr. Agha searched various medical research databases for studies that used imaging modalities to make surface craniofacial assessments in adults with OSAHS. The review identified eight relevant case-control studies, of which six were judged to be of moderate quality and two provided only low-level evidence.
The results of five studies with 906 participants indicated that adults with OSA had increased weighted mean differences in neck circumference of 1.26 mm (p = 0.0001). However, there was extensive heterogeneity among the studies, which Dr. Agha said included ill-defined samples, failure to confirm the absence of OSAHS in controls, lack of evaluation of head and neck posture during imaging acquisition, and wide variability in the methods used, such as imaging acquisition.
"Through my research, I would like to raise awareness of this condition for the general dentist and explain the available options for prediction or diagnosis of OSA."
— Bahn Agha, PhD, MSc
Two studies provided parameters on mandible length, lower facial height, mandible width, and anterior mandible height. Overall, pooled results found larger parameters in individuals with OSAHS than in controls.
Sleep apnea is a multifactorial condition that is affected, among other things, by age, ethnicity, gender, alcohol and medication use, and head posture, Dr. Agha said.
"Neck circumference alone could not predict OSA as sleep apnea could affect subjects with normal weight and neck circumference," she told DrBicuspid.com. "Therefore, combining the craniofacial morphology with other contributing factors, such as hypertension, obesity, male gender, extended head posture, and aging, could improve the prediction of OSA."
An extended head posture or forward head posture refers to the anterior positioning of the cervical spine in which the neck appears to be extending forward.
Filling in the gaps
Dr. Agha hopes to expand on her initial findings and, through her continued research, create a marker that could be applied by a dentist. Her research is focusing on addressing the study design limitations she has identified in previous research and exploring the relationship between faciocervical morphology and OSA.
General dentists could help predict OSA by taking a patient's history of sleep-related respiratory problems, administering subjective sleep apnea questionnaires, and using anthropometric measurements, such as neck circumference and body mass index, Dr. Agha said. Identifying a specific facial morphology will help dentists to refer suspected OSA patients to respiratory consultants, which will improve patient care and decrease the economic impact of OSA, she noted.
"Through my research, I would like to raise awareness of this condition for the general dentist and explain the available options for prediction or diagnosis of OSA," she said.