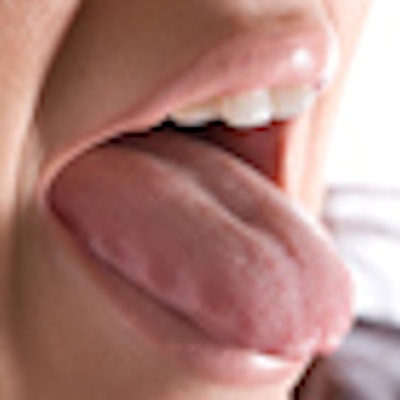 Tongue stiffness measured by shear-wave elastography (SWE) ultrasound may be able to help identify patients with obstructive sleep apnea (OSA) while they're awake, according to the findings of a pilot study published on May 10 in Ultrasound in Medicine & Biology.
Some studies have suggested that up to 38% of the population in Europe and the U.S. can have OSA, but many patients with the potentially fatal condition go undiagnosed. Ultrasound may be one easily accessible and noninvasive tool to help identify patients who may benefit from a sleep test.
"We hypothesized that development of OSA involves changes in tongue stiffness, and this effect can be seen using SWE during wakefulness," wrote the authors, led by Chun-Hsiang Chang, MD, from Cardinal Tien Hospital and the Fu Jen Catholic University School of Medicine in New Taipei City, Taiwan.
To test their hypothesis, Dr. Chang and colleagues recruited 46 participants, 26 of whom had sleep-confirmed OSA and 20 healthy controls.
First, the researchers performed conventional B-mode ultrasound using a curvilinear-array transducer to identify the tongue tissues of the patients. Then, they performed SWE while the participants breathed normally and when they performed Müller's maneuver, a technique in which they attempt to inhale while forcing their mouth and nostrils closed.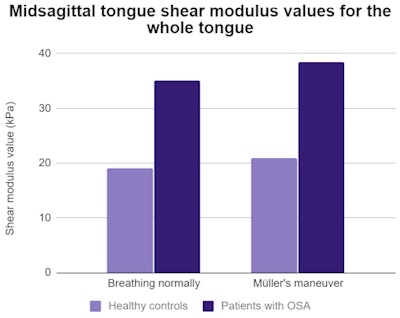 Patients with sleep apnea showed significant differences from the healthy controls in multiple tongue stiffness values while breathing normally and during Müller's maneuver. Those with OSA also had significantly higher values during Müller's maneuver than when breathing normally for the anterior and middle thirds of the tongue. For comparison, controls had no significant differences for any part of the tongue.
After the authors adjusted for age, sex, body mass index, and neck circumference, middle tongue shear modulus measured during normal breathing and whole and posterior tongue and geniohyoid muscle shear modulus measured during Müller's maneuver remained statistically significant predictors of OSA.
"Quantifying tongue tissue stiffness in a clinical setting is difficult," the authors wrote. "Through [ultrasound] SWE, we found that the stiffness of the tongue was higher in awake OSA patients than in healthy controls during normal breathing and the [Müller's maneuver]."
Based on their findings, the authors recommended cut-off shear-wave modulus values to help detect patients with obstructive sleep apnea. For some values, the accuracy could exceed 80%. The authors cautioned, however, that the findings are preliminary and that more research is needed to validate the results.
"Future application of the technique may involve ultrasonographic measurement of tongue stiffness during sedative or natural sleep, which will help to define the pathophysiology for an individual patient with OSA and to verify treatment results for those procedures targeting the tongue," the authors wrote.