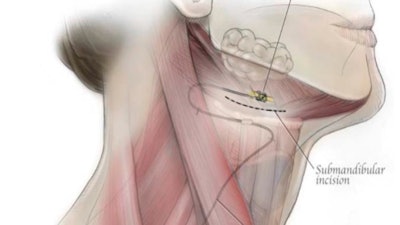 A new study reports that an implant that stimulates the hypoglossal nerve can help people with obstructive sleep apnea (OSA) get a better night's sleep. The study, published on April 6 in JAMA Otolaryngology-Head & Neck Surgery, shows that the device, called the aura6000 from LivaNova, can improve measures of OSA and may offer an alternative to continuous positive airway pressure (CPAP) therapy.
OSA is a common condition that can lead to multiple health issues, including cardiovascular and metabolic diseases. CPAP remains the primary therapy for moderate to severe OSA, but its poor adherence rates limit its effectiveness.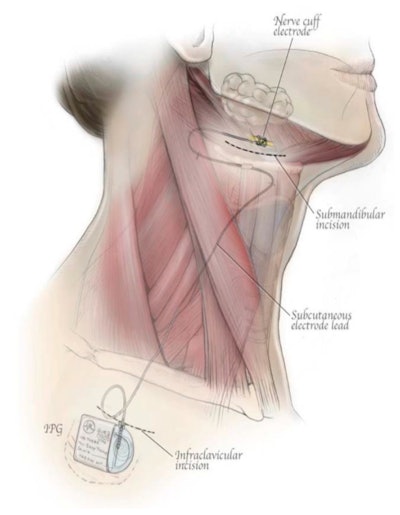 Hypoglossal nerve stimulation has emerged as an important CPAP alternative for treating OSA. As of now, the Inspire II from Inspire Medical Systems is the only implantable nerve stimulation system approved by the U.S. Food and Drug Administration (FDA) to treat OSA, according to an invited commentary also published in JAMA Otolaryngology-Head & Neck Surgery.
The aura6000 device tested in the clinical trial uses a different approach than the Inspire II system to activate the tongue muscles. Based on promising pilot and feasibility study results for the aura6000, researchers reported on the effectiveness and safety of the device that was evaluated in a multicenter, randomized clinical trial.
The study involved the implantation of the device in patients with a baseline apnea-hypopnea index (AHI) rate of 20 to 65 events per hour. Patients were randomly assigned to receive therapy at one or four months postimplant placement for the treatment and control groups, respectively.
The therapy group had significant improvements in their AHI and oxygen desaturation index (ODI) rates compared to the control group. The therapy also resulted in improvements in patient satisfaction and quality of life.
The study provides hope for people with moderate to severe OSA who cannot tolerate or do not benefit from other treatments. In the associated commentary, the authors suggest the results may lead the FDA to approve the system as an alternative to the Inspire implant. However, even with the promising results, they don't think the aura6000 will replace the Inspire system.
"This appears unlikely because the Inspire system has had 9 years to become the mainstay of hypoglossal nerve stimulation, with refinement in patient care resources, support for surgeons, and demonstration of long-term improvements in OSA-related outcomes," they wrote. "Nonetheless, if [the new device] achieves FDA approval, it will provide a compelling additional surgical option for hypoglossal nerve stimulation with several advantages, including potential elimination of the need for preoperative screening ... for insurance authorization."