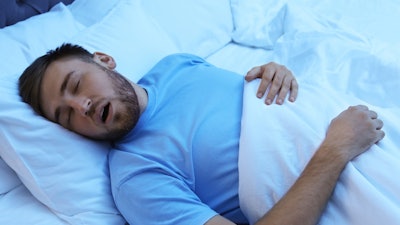 Researchers have developed an automated tool for analyzing sleep studies to determine the severity of obstructive sleep apnea (OSA).
A team at Mount Sinai Hospital in New York said the tool -- an automated measure called ventilatory burden -- overcomes limitations of the apnea-hypopnea index (AHI), the primary tool used to diagnose OSA.
"The current clinical way of determining the severity of one's sleep apnea is based on crude methods that do not predict risk of cardiovascular diseases or even mortality," said corresponding author Ankit Parekh, PhD, of the Icahn School of Medicine at Mount Sinai in a news release.
The AHI provides details on the average number of times per hour that a patient's breathing either partially or fully stops during sleep. However, this widely used standard only captures the rate of respiratory events -- it does not predict potential subsequent risks, the researchers noted.
Conversely, the ventilatory burden provides an automatic breath-by-breath measurement that assesses the proportion of small breaths during routine sleep studies. The measurement is not dependent on the consequences of hypoxemia -- a low level of oxygen in the blood -- and the awakenings seen in OSA patients, the authors added.
In a recent study, the researchers showed that the automated measure of ventilatory burden was able to effectively assess the severity of OSA, remain stable from one night to another, and predict mortality associated with cardiovascular diseases in patients, making it a viable alternative to the AHI (Am J Respir Crit Care Med, August 30, 2023).
"We have developed a way to analyze routine sleep studies to predict risk of cardiovascular diseases and even mortality. Clinicians who rely on arbitrary rules and thresholds for assessing severity of sleep apnea will now have a better validated tool to better manage sleep apnea and patients can receive the best care earlier," Parekh said.