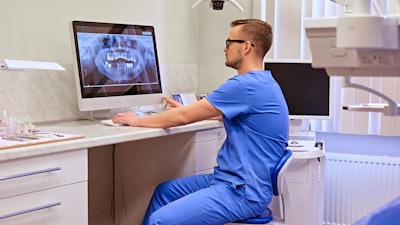 Planet DDS announced that its Apteryx XVWeb cloud imaging software and dental practice management software Denticon will be integrated with Pearl's radiologic artificial intelligence (AI) Second Opinion software.
The integrated solution will provide real-time chairside decision support to dentists as they review x-ray images with patients, with the goal of increasing confidence in clinical decisions, promoting proactive and preventive care, and enhancing dentist-patient relationships, according to Planet DDS.
Apteryx XVWeb allows practices to store, view, and optimize clinical images for treatment planning. Pearl's Second Opinion software uses AI to detect dental diseases and conditions in bitewing and periapical x-rays of patients age 12 and older.