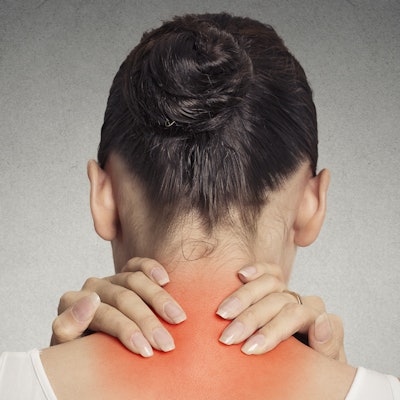 Israel-based LED headlight and loupe manufacturer Admetec said that preliminary research on its ergonomic loupes showed a significant mitigation of stress on the back and neck.
Dr. Maria Grazia Piancino, PhD, of the University of Turin in Italy compared the stress placed on eight symmetrical back muscles in dentistry students and postgraduate students using Admetec's Ergo loupes and conventional through-the-lens (TTL) loupes.
Piancino reported that the Ergo loupes led to a more symmetrical activation of the muscles as well as a significant reduction of the muscular peaks and mitigation of stress in both the back and neck, according to Admetec.
What's more, the TTL loupes elicited greater stress levels; muscles were highly activated asymmetrically and continuously rather than with postural activity, Admetec said. The findings indicate that using nonrefractive TTL loupes forces the body to work contrary to its biomechanical design. This in turn leads to symptoms such as fatigue, pain, discomfort, and difficulty maintaining mental focus. Eventually, the cumulative trauma can impact performance and career longevity, the firm added.
Admetec collaborated with Piancino on the research and plans to continue the collaboration in the future.