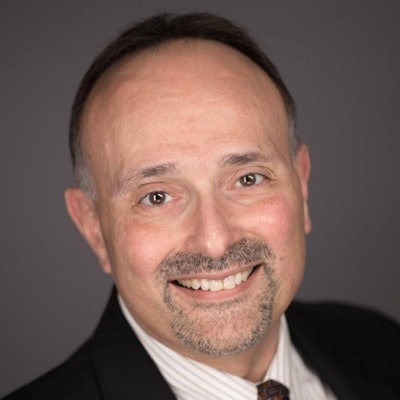 Recently, the U.S. Food and Drug Administration (FDA) approved the supplemental new drug application for Trelegy Ellipta for the maintenance treatment of asthma in patients ages 18 years and older. This new indication is in addition to Trelegy Ellipta's previous indication for the maintenance treatment of chronic obstructive pulmonary disease (COPD) in adults.
This new indication -- and resulting increased market demand -- for Trelegy Ellipta is important for dentistry because its ingredients have dental implications and adverse effects which, due to the fixed combination in this one product, may be additive and synergistic.
Trelegy Ellipta is a first-in-class triple-ingredient oral inhaler. It combines fluticasone furoate, a corticosteroid with anti-inflammatory and immunosuppressive properties; umeclidinium, a long-acting muscarinic antagonist that causes bronchodilation and improves airflow; and vilanterol, a long-acting selective beta-2-adrenergic agonist that relaxes bronchial smooth muscle and causes bronchodilation to help keep airways open.
The FDA's approval was based on data from the double-blind, active-controlled Clinical Study of Asthma Patients Receiving Triple Therapy Through a Single Inhaler (CAPTAIN). The study evaluated the efficacy and safety of Trelegy Ellipta in 2,436 adults with inadequately controlled asthma despite treatment with a combined inhaled corticosteroid/long-acting beta-2 agonist. Results of the study showed a statistically significant improvement in forced expiratory volume with Trelegy Ellipta as compared with fluticasone furoate/vilanterol alone.
Corticosteroids, such as fluticasone furoate, used by oral inhalation have immunosuppressive effects that increase the risk of localized oropharyngeal infections with Candida albicans or Aspergillus niger. These infections may require treatment with topical antifungal agents, such as nystatin or clotrimazole, or systemic antifungal agents, such as fluconazole. Topical antifungal therapy is often difficult to maintain due to patient noncompliance, and systemic antifungal therapy with fluconazole may result in significant drug interactions. In addition, treatment of oropharyngeal fungal infections may also include discontinuance of the corticosteroid inhaler, which may result in exacerbations of asthma or COPD. Prolonged use of corticosteroids may also prolong or exacerbate viral infections or limit response to vaccines.
Long-acting muscarinic antagonists (LAMAs), such as umeclidinium, especially in combination with long-acting beta-2-adrenergic agonists (LABAs), such as vilanterol, have been associated with an increased risk of cardiovascular disease in patients with COPD (JAMA Internal Medicine, Wang et al, February 2018, Vol. 178:2, pp. 229-238). Two potential mechanisms for this increased risk have been proposed: LABAs and LAMAs are believed to cause overactivation of the sympathetic autonomic system (resulting in tachycardia and palpitations), and LABA and LAMA use in COPD patients has been shown to increase inflammatory cytokine levels, which could lead to an increased risk of cardiovascular disease. Also, LAMAs have frequently been implicated in hyposalivation and xerostomia; however, no reports of xerostomia have yet occurred with umeclidinium.
Interestingly, Trelegy Ellipta is supplied as a dry powder for inhalation and, as with other inhaled medications, may result in paradoxical bronchospasm. Also, patients should be advised to rinse their mouths with water without swallowing after each use and to keep short-acting beta-2 agonists available for the management of acute episodes or exacerbations.
I sat down with DrBicuspid.com Editor-in-Chief Kevin Henry to talk more about what this means for your practice and patients in a new episode of the Dental Assistant Nation podcast, powered by IgniteDA.
Tom Viola, RPh, is a clinical educator, professional speaker, and published author in the areas of oral pharmacology and local anesthesia. For more information on this and other pharmacology topics, as well as a list of dates and locations where you can attend his latest seminars, visit his website at www.tomviola.com.
The comments and observations expressed herein do not necessarily reflect the opinions of DrBicuspid.com, nor should they be construed as an endorsement or admonishment of any particular idea, vendor, or organization.