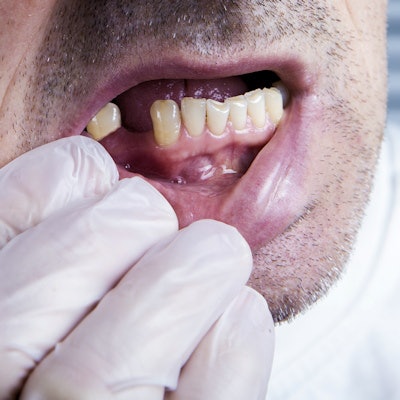 Adults older than 30 had fewer teeth if they had markers of poor glycemic control in blood lab results in a study published in Diabetology International. The research included insurance claims data from hundreds of thousands of people.
For the study, the investigators analyzed insurance claims data from 233,567 individuals. The results support a strong association between tooth loss and glycemic control, concluded the study authors, led by Kayo Harada and Katsutaro Morino from the Sunstar research and development department and Shiga University of Medical Science, respectively, in Japan (Diabetol Int, August 28, 2021).
"People at risk are being advised to take steps to better manage their glycemic levels and take steps to improve their oral care, including through smoking cessation," noted a statement from Sunstar about the research.
The authors sought to determine whether glycated hemoglobin A1c (HbA1c) and fasting blood glucose (FPG) levels were linked to tooth loss. The goal was to understand the relationship between glycemic control and tooth loss by age group.
Individuals who participated in the study, which was a collaboration between professors at Shiga University of Medical Science and oral healthcare company Sunstar, were 20 to 70 years old. The authors looked at insurance information for Japanese adults in 2015 and 2016.
The number of retained teeth decreased in those with higher HbA1c and blood glucose levels in each age group older than those in their 30s. The number of teeth decreased for each age group with increasingly worse HbA1c and FBG levels. For people in their 40s and 60s, those with prediabetic blood glucose levels also had fewer teeth than those with normal glucose levels.
"The largest ever research study into tooth loss and glycemic control in a general population has found compelling evidence that people aged over 30 with higher HbA1c levels and elevated FPG levels have fewer natural teeth remaining," according to the Sunstar statement.
The risk of tooth loss in middle age was even greater for those with hyperglycemia who also smoked, and smoking cessation is key to preventing tooth loss, based on the study.
"Glycemic control is strongly associated with the number of natural teeth in the real-world setting," the authors wrote.