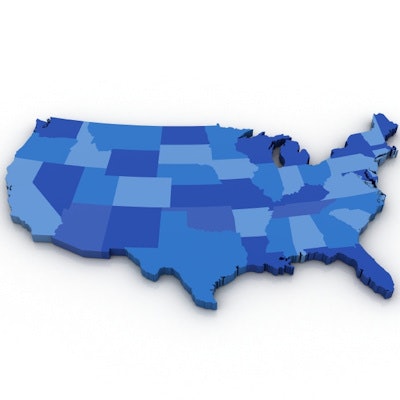 Which U.S. state has the best dental health? Connecticut, according to a new survey published by national dental provider Express Dentist. The survey measured 25 key dental health indicators in all 50 states and the District of Columbia.
The results revealed not only what states had the best and worst dental health but also that poor dental health in a community can directly affect a state's economic productivity. Location also played a major role in where a state ranked in the survey. Indeed, where a person lived determined whether he or she had access to dental care or fluoridated water.
Ranking the states
The Express Dentist survey measured 25 indicators in key areas such as dental care access, good dental habits, and oral health status. The states and the District of Columbia were assigned one to four points, with four being the best, for each indicator.
Many Northeastern states topped the list of best dental health, including Connecticut at No. 1, Massachusetts at No. 3, and New Jersey at No. 5. Arkansas came out at the bottom of the survey, scoring low across the board, along with many other states in the Southern U.S.
Dental health ranking of U.S. states and DC
Best dental health
Worst dental health
1. Connecticut
51. Arkansas
2. District of Columbia
50. West Virginia
3. Massachusetts
49. Louisiana
4. Hawaii
48. Mississippi
5. New Jersey
47. Texas
Connecticut also took the No. 1 spot for the highest percentage of adults with a dental visit in the past year, while Mississippi ranked last in this regard. For the percentage of children with preventive dental care, Hawaii nabbed the top spot and Nevada fell to the bottom of the pack.
Arkansas scored consistently low across all indicators, although it received four points for water fluoridation. Hawaii ranked last in water fluoridation, even though it was among the top five overall ranked states; Kentucky ranked highest for water fluoridation.
For overall condition of the mouth or teeth, Alaska took the top spot and Louisiana the bottom spot.
Oral health and the economy
The survey also assessed the number of residents taking days off of work for dental pain. States with the worst dental health had higher numbers of residents taking days off for dental pain, indicating that poor dental health can affect the local economy, according to Express Dentist. In contrast, in states with the best dental health, residents reported lower levels of dental pain in the past 12 months.
The survey also considered employment opportunities for dentists. Connecticut scored at least three points in all indicators except for this category, where the state received two. In this metric, it scored the same as the lowest ranked state overall, Arkansas.