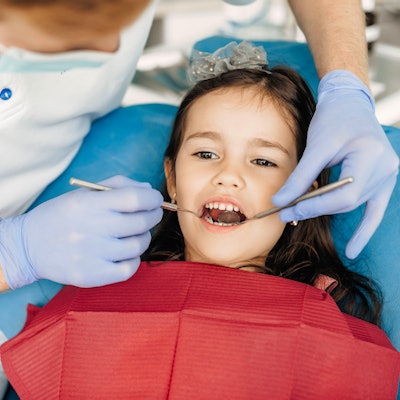 Primary care providers may think they talk with parents about children's oral health more than they actually do, according to a study examining provider- and patient-reported knowledge of pediatric oral and dental health needs that was published on October 26 in the Journal of Pediatric Health Care.
The study's authors developed a retrospective chart review and two surveys to gather data from providers and parents on their oral and overall health knowledge and practices. The findings highlight a difference in providers' perception of their reporting about oral health compared to the actual documentation of dental practices as part of a child's physical examination.
"Primary care pediatric providers are in the position to participate in the prevention of caries because of the frequency they see young children before establishing a dental home," wrote the study's authors, led by Dr. Sara Phillips of the University of Alabama.
In the study, 37 healthcare providers completed the online survey over a two-month period. The survey asked providers to reflect on well-child visits with younger children and respond to several questions regarding their perception of dental health practices and how they document dental information they obtain during a visit with patients.
In addition, 49 parent surveys were collected over a three-week time frame. Parents were asked questions regarding their dental health beliefs and dental practices with their children.
Researchers then compared the survey answers to a retrospective chart review using structured data fields within the electronic health record (EHR). The EHR was searched for pediatric preventive care visits between September 2018 and March 2019 in the pediatric and family medicine departments. The presence of caries, last dental visit, beverage intake and quantity, and water source were included in the search.
"While providers report being comfortable discussing dental health with patients, review of medical records shows inconsistent discussion and documentation of dental health," the study authors wrote.
The authors found a discrepancy between how often primary care providers said they performed oral health practices versus how often they documented that they did, suggesting providers might be overconfident in how frequently they discuss dental health and document these conversations with their patients. Further, the study findings indicate that pediatric providers more thoroughly document dental and oral health during well-child exams compared to family medicine providers.
In addition, education from primary care providers on specific topics may be beneficial to parents. Pediatric dental health literacy is crucial for parents to reduce the incidence of caries in their children and other negative dental health outcomes.
"Educational initiatives for both providers and parents are needed to improve the overall dental health of our pediatric patients, especially when it comes to fluoride content," wrote the authors.
The findings are important because caries is the most chronic childhood disease, and failure to address a child's dental health can lead to further complications, including problems with permanent dentition. The authors recommend that family medicine and pediatric providers document a child's oral and dental health needs while discussing nutrition, a required topic at every well-child visit.
"Based on the overall study, the authors recommend establishing guidelines with family medicine and pediatrics to better integrate dental health knowledge and documentation of dental and oral health topics during the well-child visit," Phillips and colleagues concluded.