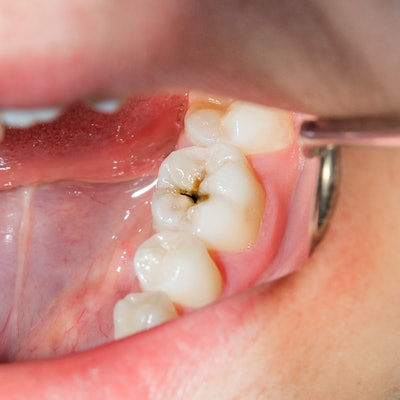 The American Academy of Pediatrics (AAP) is addressing pediatric dental caries in its January 2023 report titled "Maintaining and Improving the Oral Health of Young Children."
The report outlines how pediatricians can help improve children's oral health to prevent dental caries, which the academy said affects more than 45% of U.S. children. The AAP also noted how disparities may prevent access to dental care.
The AAP advises that children drink only water between meals, preferably fluoridated tap water, and avoid juice intake before they turn 1 years old. It also advises that juice intake should be limited to four ounces per day at most in toddlers ages 1 through 3 years old and four to six ounces per day for children ages 4 through 6. For children ages 7 to 18, juice intake should be limited to eight ounces or one cup of the recommended two to 2.5 cups of fruit servings per day, the AAP said.
The academy also said that fluoride is important to prevent dental caries. Fluoride, however, isn't contained in most bottled water. Instead, fluoride toothpaste and varnishes applied by dentists or pediatricians can achieve this.
The AAP encourages pediatricians to collaborate with dentists to ensure proper dental care in children. However, the academy also advises pediatricians to do the following:
Assess children's oral health risks at health maintenance visits and other relevant visits.
Include guidance for oral health as an integral part of patient counseling.
Counsel parents, caregivers, and patients on ways they can reduce their consumption of sugary drinks and foods.
Encourage parents and caregivers to maintain their own good oral health and to brush a child's teeth at least twice a day as soon as teeth erupt.
Use a smear or a grain-of-rice-sized amount of fluoride toothpaste, increasing to a pea-sized amount when a child reaches age 3.
Advise parents and caregivers to assist with and monitor brushing until a child turns 10 years old.