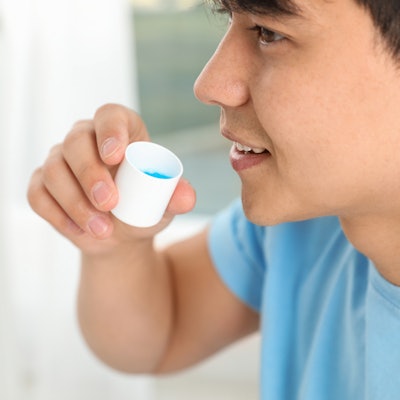 Using a thyme mouth rinse periodontal treatment may improve gingivitis and reduce bad breath better than other mouthwashes, according to a new study published on February 9 in the International Journal of Dental Hygiene.
Unlike other mouthwashes that contain chemical compounds that can cause side effects, the thyme rinse had no abnormal effect on teeth, oral mucosa, and the tongue, the authors wrote. It is believed to be the first report that discusses using thyme mouthwash as a treatment option for bad breath.
"The use of thyme in gingivitis patients was found to be effective in both gingival index and bad breath," wrote the authors, led by Dr. Metin Çalışır of the department of periodontology at Adiyaman University in Turkey.
Halitosis, which is often associated with dental and gingival diseases, food impaction, and dry sockets, can cause psychological effects that lead to social, occupational, and emotional difficulties. Nonsurgical periodontal treatment was reported to be effective in improving the periodontal clinical condition of individuals and reducing bad breath.
In addition to periodontal treatment, clinicians sometimes recommend or prescribe mouthwashes, but how well they work is controversial due to their potential side effects. For example, long-term use of chlorhexidine may cause abnormal taste sensations and discoloration on dental and mucosal surfaces.
To evaluate the effectiveness of thyme mouthwash, the authors conducted a retrospective study of 60 patients with gingivitis. The 30 women and 30 men received initial periodontal treatment followed by oral hygiene instructions.
The patients were then divided into four groups comprising 15 people each. Of the groups, one group received only oral hygiene instructions, a second group was prescribed a chlorhexidine rinse, the third group was prescribed a zinc acetate and chlorhexidine diacetate mouthwash, and the fourth group was instructed to use a thyme mouthwash.
At baseline and one week after treatment, the patients' gingival index, plaque index, and volatile sulfur compounds (VSCs) values were recorded, according to the study. Though there was no significant difference between the plaque index values of the groups after treatment, the gingival index and VSCs values were significantly different between the groups after treatment (p = 0.001).
In terms of VSC values, a significant difference was found between the thyme mouthwash patients and the control groups and between the thyme mouthwash and zinc acetate groups (p = 0.001). The differences indicated that the mouthwash containing thyme may be as effective as those that contain chemicals, the study's authors wrote.
In the control group, gingival index values were the highest, while they were the lowest in the chlorhexidine group. However, thyme mouthwash was found to be more effective than zinc acetate in reducing the gingival index values. This finding suggests that thyme mouthwash may be a successful treatment of inflammation in patients with gingivitis, the authors wrote.
The study had several limitations, including the study's short follow-up period. Due to this shortcoming, the mouthwash's long-term results could not be assessed. Though thyme mouthwash may improve gingivitis and halitosis, more clinical studies are needed, Çalışır and colleagues said.
"Thyme mouthwash, which is a cost-effective natural remedy, was observed to be as efficient as chemical antiseptics, which suggests that it can be used in periodontal treatment and for the management of bad breath," they wrote.