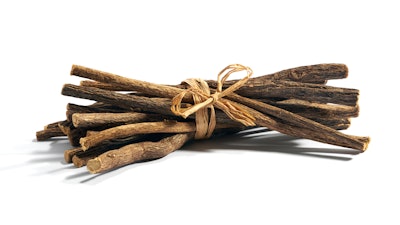 Using a mouthwash containing Glycyrrhiza uralensis (G. uralensis) extract, also known as licorice, may be more effective in reducing bad breath than rinsing with saline, according to a study published on August 28 in the International Journal of Dental Hygiene.
Also, gargling with a mouthwash that contains licorice may stop the bacteria that causes bad breath from reproducing, the authors wrote.
"The use of mouthwash containing G. uralensis extract showed subjective and objective halitosis reducing effects," wrote co-authors Dr. Seoul-Hee Nam of Kangwon National University in Samcheok, South Korea, and Yu-Rin Kim, PhD, of Silla University in Busa, South Korea.
To prevent bad breath, Gram-negative anerobic bacteria must be removed from the oral cavity. In addition to toothbrushing, flossing, and gum chewing, many people gargle with mouthwashes containing antibacterial ingredients, including synthetic substances like chlorhexidine and triclosan. However, using rinses with synthetic ingredients for extended periods may affect the mouth's good bacteria. Therefore, researchers have been studying the use of natural substances to prevent halitosis that have no negative effects on humans.
To determine the effects that a mouthwash with licorice extract had on halitosis, a randomized, double-blind, placebo-controlled study was conducted on 60 patients. Half of the study's participants were instructed to gargle with a saline mouthwash and the other half gargled with a licorice extract-containing mouthwash, according to the study.
Bad breath and halitosis-causing bacteria were measured in the patients while they were in a fasted state. The levels were measured before gargling, immediately after using mouthwash, and five days after using the rinse. The participants were tested immediately after waking up without brushing their teeth or drinking, the authors noted.
Using a licorice mouthwash reduced the prevalence of bad breath. Also, halitosis improved immediately after gargling with a licorice mouthwash immediately and after five days (p < 0.05). Over time, there was no significant change in halitosis in the group using a saline mouthwash, they wrote. In those who had pseudo bad breath, there was a significant decrease in halitosis-causing germs when the licorice rinse was used (p < 0.05).
Nevertheless, the study had limitations, including a short study period of five days, they wrote. In the future, more research should be conducted with longer study periods, they wrote.
"Therefore, using a mouthwash containing safety-guaranteed natural ingredients such as G. uralensis extract instead of a chemical mouthwash that can cause adverse effects will contribute to the improvement of the oral environment by inhibiting the development of halitosis," Nam and Kim wrote.