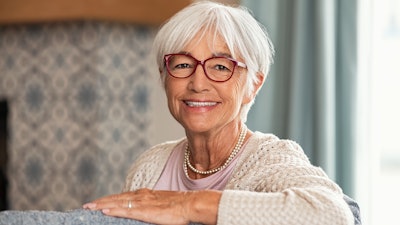 Older U.S. adults agree that smiling makes them feel happier, but many are held back by a self-perpetuating cycle of poor oral and mental health, according to a recent report from Delta Dental. The survey uncovers a negative feedback loop between poor oral health and mouth pain and depression, anxiety, and low self-image.
Delta Dental of California's "2023 Senior Mental and Oral Health Report" surveyed more than 1,000 U.S. adults age 50 and older about their oral health habits and their self-reported indications of mental well-being. The survey showed several possible relationships between oral health and how people feel emotionally, Delta Dental said.
Specifically, 45% of respondents, regardless of mental health status, indicated that they are more likely to notice changes in their mental health when they are experiencing dental pain or discomfort. And 25% felt negatively about themselves when brushing and flossing because they didn't like the way their teeth look. In addition, more than 36% of survey respondents smile less than they did when they were young due to deteriorating oral health or teeth.
Yet 80% of respondents said the simple act of smiling makes them feel happier. And among those who indicated that they frequently experience feelings of depression or hopelessness, 78% still share that view, according to the report.
"The link between mental health and oral health is really powerful," Sarah Chavarria, president of Delta Dental, said. "These results show us that addressing mental health is critical, especially as it relates to its impact on our oral and overall health. Everyone, regardless of age, ethnicity or gender, should feel uninhibited to smile and take care of their whole selves."