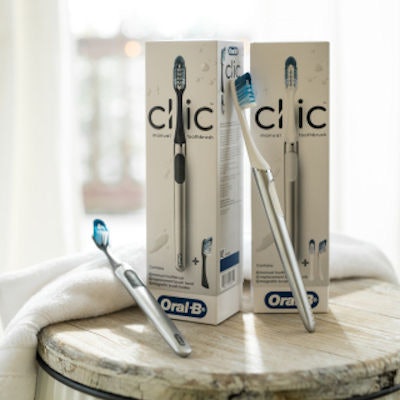 Procter & Gamble (P&G) Oral Care has created a new sustainability platform to support reducing environmental impact while achieving optimal oral health.
The "Healthy Smiles. Health Lives. Healthy Planet." platform will guide P&G's oral healthcare brands, including Oral-B and Crest. It is also designed to support the organization's larger 2030 sustainability ambitions as well as three sustainable development goals set by the United Nations.
To meet their sustainability goals, Oral-B and Crest will make their product packaging 100% recyclable. This will start with recyclable toothpaste tubes in Europe, the U.S., and Canada by 2025. P&G Oral Care will also aim to reduce its greenhouse gas emissions in operations and improve water efficiency at P&G sites by 2030.
Lisa Ernst, senior vice president of oral care research and development, pointed to the Oral-B Clic toothbrush as one example of the company's design efforts to improve both health and the planet. The manual toothbrush features replaceable toothbrush heads to reduce plastic waste.