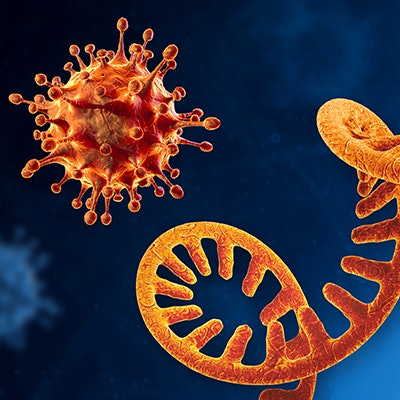 Using a clinical antiviral agent with an ultrasonic scaler may mitigate the spread of viruses -- such as SARS-CoV-2 -- that can occur due to aerosolization, according to a study published February 13 on the preprint server bioRxiv.
Adding sodium hypochlorite or electrolyzed water to scalers may prevent the spread of virus-containing droplets, the authors concluded. They believe their study could be the first to evaluate dental procedure virus transmission with a viable virus. However, they also cautioned that the results have not been certified by peer review and should not be used to guide clinical practice at this time.
"The virus droplet transmission could be prevented by a simple saline replacement with a virucidal agent that has already been tested as mouth-rinse for home oral care," wrote the group, led by Dr. Aleš Fidler, PhD, from the department of endodontic and restorative dentistry at the University of Ljubljana in Slovenia.
Dental teams have been forced to take many steps to prevent the spread of COVID-19 at their practices. They have staggered patient appointments, some have tested patients prior to procedures, and others have limited their use of aerosol-generating drills and scalers. Finding new ways to control the spread of viruses can help bring practices back to normal.
In the current study, the researchers decided to assess the spread of viruses when an ultrasonic scaler was in use. For the virus, they used a nonhuman, species-restricted equine arteritis virus (EAV), which resembles SARS-CoV-2 in terms of structure and genome and is transmitted via respiratory aerosols. Also, they examined whether replacing the coolant with an antiviral agent could prevent spread.
Droplet transmission was evaluated using 48-hour cell culture monolayer RK13 cell lines, representing kidney epithelial cells, in well plates positioned at a distance of 30 cm to 55 cm. A suspension test was used to assess the antiviral activity of 0.25% sodium hypochlorite or electrolyzed water versus the saline coolant that is typically used in scalers, the authors wrote.
The tissue-culture infectious dose per mL registered below detection limits after five seconds when 0.25% sodium hypochlorite and electrolyzed water were used as a coolant, they found.
With electrolyzed water, no cytopathic effect was found, which is when structural changes occur due to a virus invading host cells. In addition, there was no cytotoxicity, which reflects the virus's ability to destroy living cells. With 0.25% sodium hypochlorite, there was no cytopathic effect; however, cytotoxicity was evident for up to 35 cm. When saline coolant was used, the cytopathic effect was found in cells up to a distance of 45 cm, according to the authors.
The preliminary study had some limitations; for example, the combination of equine arteritis virus and RK13 cell lines does not precisely reflect clinical conditions featuring SARS-CoV-2 and respiratory epithelial cells.
Though early evidence shows that electrolyzed water may be an effective antiviral tool during the pandemic, further research should focus on other aerosol-generating procedures, other agents, and testing with SARS-CoV-2 prior to use at practices, the authors concluded.
"Nevertheless, the proposed principles for virus spread mitigation [seem] promising and warrant further evaluation," they wrote.