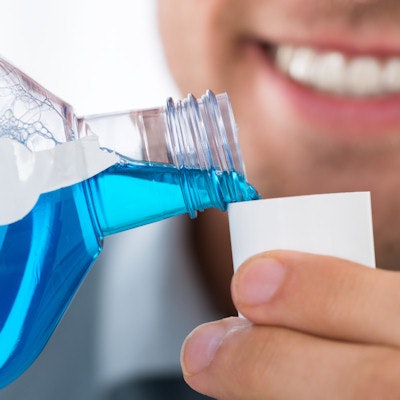 Two types of mouthwashes showed promise for halting transmission of the novel coronavirus in a recent in vitro study in Pathogens. Both Listerine and chlorhexidine gluconate slowed or stopped the virus from replicating without harming oral tissues.
Researchers from Rutgers University conducted the study to see whether mouthwash could be used to help protect dental providers from patient aerosols. The results, published on March 1, suggest that certain mouthwashes can stop SARS-CoV-2 activity rapidly on contact.
"As dentists, we're right there in a patient's face. We wanted to know if there's something that might lower the viral load," stated co-author Dr. Eileen Hoskin, a general dentist and assistant professor at Rutgers School of Dental Medicine, in a press release.
The Rutgers team put four types of mouthwash to the test:
Listerine Original (Johnson & Johnson)
Chlorhexidine gluconate (Xttrium Laboratories)
Colgate Peroxyl (Colgate-Palmolive)
Povidone-iodine (CVS Pharmacy)
They diluted the mouthwashes to mimic actual patient use and also tested for toxicity on cultured oral skin samples. They tested the efficacy of the mouthwashes against two different virus types: the SARS-CoV-2 virus with replication abilities and a pseudotyped virus that combined the SARS-CoV-2 spike protein with HIV.
In multiple analyses, Listerine Original and chlorhexidine gluconate disrupted the viruses with little effect on oral skin cells. In some scenarios, the two agents completely halted all virus activity.
Colgate Peroxyl and povidone-iodine also worked against the virus but caused "significant skin cell death," noted senior author Dr. Daniel Fine, chair of the Rutgers department of oral biology. The results suggest these agents wouldn't work as well as Listerine Original and chlorhexidine gluconate, which are currently readily used in oral healthcare.
One strength of the study was its use of different exposure time periods, including mere minutes, noted the study authors. In prior studies, mouthwashes were often left on infected cells for days.
"Our assays, in which the virus but not the infected cells were exposed to mouth rinses, differed from previous studies, in which infected cells were exposed to mouth rinses and antiseptics for several days," the authors wrote.
While the results are promising, Fine cautioned that the public shouldn't rely on mouthwashes to slow the spread of COVID-19 just yet. However, he does hope further studies will continue to investigate whether rinsing with mouthwash can prevent or reduce the transmission of COVID-19.
"The ultimate goal would be to determine whether rinsing two or three times a day with an antiseptic agent with active antiviral activity would have the potential to reduce the ability to transmit the disease," he stated. "But this needs to be investigated in a real-world situation."