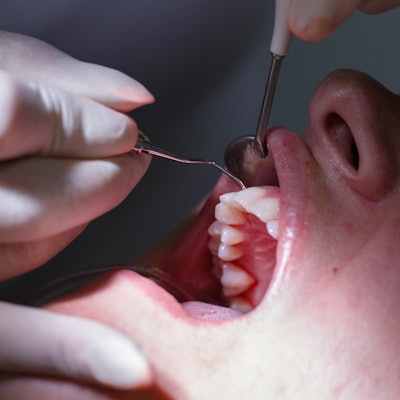 Combining conventional scaling with an anti-infective drug treatment may improve outcomes for patients with severe periodontitis, according to a commentary published on August 1 in Periodontology 2000.
In addition to ultrasonic scaling, using antibiotics and an antiviral drug treatment for cold sores and shingles would target key herpes viruses and bacteria, possibly leading to better control of severe gum disease, wrote author Dr. Jørgen Slots, PhD, of the University of Southern California in Los Angeles.
"Conventional (mechanical) treatment of periodontitis can be prohibitively expensive and may not cure severe disease," Slots wrote.
Though current therapies are adequate in managing gingivitis and stable types of gum disease, patients with active periodontitis often experience disease progression despite care from dental teams. Even those committed to maintaining recommended oral hygiene habits and regular supportive therapy can experience disease progression.
According to Slots, a better treatment for those with severe periodontitis may be a pathogen-specific anti-infective therapy that calls for the antiviral valacyclovir, antibiotics amoxicillin-metronidazole or ciprofloxacin-metronidazole, sodium hypochlorite, and ultrasonic scaling.
Antibiotic combinations have a long history of use in periodontics, but valacyclovir could be the game changer. Past studies have shown it has reversed diseases in periodontic and endodontic cases, the author wrote.
In one study described by Slots, treatment of Epstein-Barr virus-associated refractory periodontitis with 500 mg of valacyclovir twice daily for 10 days resulted in the absence of the virus and "dramatically" improved periodontal health after 12 months.
In another study of 20 patients with symptomatic apical abscesses, 10 patients were given three days of valacyclovir, and the remaining 10 patients were given amoxicillin. On the first day following baseline treatment, two patients in the valacyclovir group reported moderate pain compared to eight patients in the amoxicillin group, according to the commentary. What's more, one patient in the valacyclovir group took pain medication as opposed to nine in the amoxicillin group.
"These findings lend credence to a major pathogenic role of active herpesviruses in periodontal pathosis," Slots wrote.
The effectiveness of the antiviral drug valacyclovir may be due to its ability to target hundreds of millions of copies of active herpes viruses, which can live in a periodontal lesion.
Traditional scaling and flap surgery cannot reach billions of herpes viruses and pathogens within deep periodontal pockets and the inflamed gums of severe periodontitis lesions. Previous studies have shown that treatment, including surgical and nonsurgical interventions with close follow-up and adjunctive use of single antibiotics, still can result in more than one-third of patients experiencing progressive disease within a few years.
However, systemic anti-infective drug treatment can potentially suppress pathogens in the entire periodontium. The therapeutic approach outlined by Slots offers the potential of a low-cost option that may help patients keep teeth that otherwise may be pulled due to focal infection concerns.
"Targeted therapy against herpesviruses and key bacterial pathogens rather than against merely bacterial biofilms improves the management of severe periodontitis," Slots concluded.