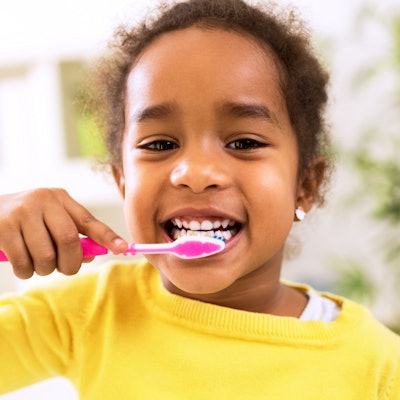 Habit formation was the main theme of a successful implementation of a school-based toothbrushing program for students, suggesting school routines and schedules could be effective facilitators, according to a study published recently in BMC Oral Health.
The study may be good news as the U.S. observes National Brush Day on November 1, which reinforces the importance of promoting good toothbrushing habits for children.
"Implementing a school-based toothbrushing programme with the support of staff and active engagement of children can help children to develop a toothbrushing habit," wrote the authors, led by Dr. Ming-Ching Wang of Taipei Municipal Hospital in Taiwan (BMC Oral Health, October 24, 2022, Vol. 22, 451).
In-school toothbrushing programs have been suggested as a way to promote oral health. However, few studies have investigated the practical implementation of such programs or their effect on oral health knowledge, skills, or longer-term behaviors, including daily brushing.
One province in Canada will phase-in school-based toothbrushing. In Quebec, a program by the government's ministry of health is being implemented across Quebec's elementary schools and daycare centers. Teachers will be expected to supervise students as they brush for two minutes daily. Also, schools must ensure students use proper toothpaste and monitor their toothbrushing techniques. By 2025, the goal is for 80% of school children and 65% of those in daycare to receive daily supervised toothbrushing.
To explore the challenges and facilitators of implementing a school-based toothbrushing program, the authors conducted focus groups and interviews to better understand the views of 36 elementary school students, 29 staff members, and five nurses in a pilot school-based toothbrushing program in Taiwan. The study used the Theoretical Domains Framework, which covers behavioral factors, including social influences and environmental context and resources, in the analysis, according to the study.
While children did not necessarily appear to retain the dental knowledge that was taught in the program, analysis of the data revealed that habit was the overarching theme to successful implementation of the program. Other key factors that reinforced habit formation were school routine and schedule, the authors wrote.
However, the study had limitations, including convenience sampling. School nurses rather than researchers recruited the children, so there may have been a limited range of views obtained, they wrote.
Nevertheless, more studies are needed to further explore the barriers and facilitators of toothbrushing programs, the authors wrote.
"The overarching theme was the importance of habit formation for both staff and children to ensure that toothbrushing as part of the programme was embedded into the school schedule and routine," Wang and colleagues wrote.